Foreship's hull form optimization and hydrodynamic pattern are at the centre of major fuel consumption savings. That result will be produced by a new model of coastal general cargo ship. Meriaura Group, a Finnish owner, has concluded an agreement for two 4,700-DWT Ice Class 1A VG EcoCoaster general cargo newly built ships. That happened at Dutch yard Royal Bodewes in mid-January.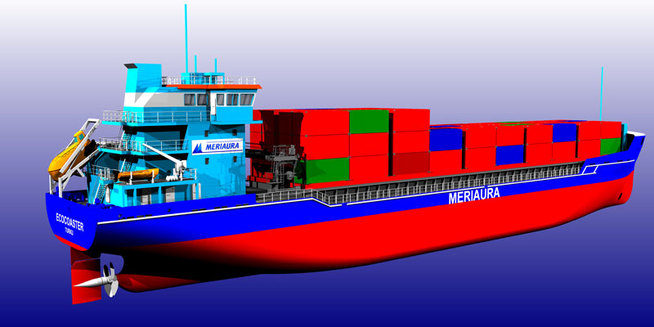 Image: meriaura
The first ship will be delivered at the end of July, 2016. Hull form and machinery configurations are anticipated to cut in half the fuel consumed in comparison to similar conventional dry cargo vessels. Thus this will reflect the decrease of fuel emissions. Foreship has used Meriaura and Aker Arctic Technology at the EcoCoaster's stage of obtaining the general idea. The project also suggests the ship's operation with either MGO or the biofuel 'EcoFuel' in order to comply with and even extend beyond the maritime environmental obligations.
According to Risto Ajanko, Senior Specialist, Hydrodynamics, Foreship Ltd., a total number of 45 hull options have been evaluated and they have been of different length and hydrostatics. The purpose has been to achieve minimum resistance, small waves and good track left by the ship for the propeller. The fundamental proportions of the EcoCoaster have been settled at their optimum position and that has produced the best capacity-fuel consumption ratio possible.
With the help of the Foreship's developed in-house Computational Fluid Dynamics devices, constructors have obtained the most efficient solution for operation in the ice channel and in open water. That has been achieved with recommendations from Aker Arctic and the device has been tested to improve operation in ice. Furthermore, research has been concentrated on the process of optimization of the profile with even water surface near the hull. The hull design incorporates a long and narrow arch to provide less resistance in ice channels. The angles spreading outwards lessen the additional waves' resistance. The rearward outlines of the ship resemble a narrow gondola to improve the track area left by the ship for the propeller.
The EcoCoaster's dual fuel propulsion system will be supplied with an ABC 8DZC medium speed main engine. That engine will be appropriate for both MGO and biofuel. VG-Shipping (member of Meriaura) manages its own biofuel refinery placed in Uusikaupunki. The owner's purpose is for EcoCoasters to develop at least half of the number of its ships for the duration of five years. The fleet currently consists of 20 ships. A bigger EcoCoaster pattern is also under construction.