On February 6th, 2015, right after midnight the Rick capsized on the Wester Scheldt off Hoofdplaat, three kilometers northeast of Breskens. Two of the crew members were rescued and one person was reported missing. One seafarer that had been on deck at the time of the accident was rescued from the freezing waters 45 minutes after the accident occurred by Dutch dredger Interballast 1's crew and was taken to a hospital in Breskens at approximately 1:40 a.m.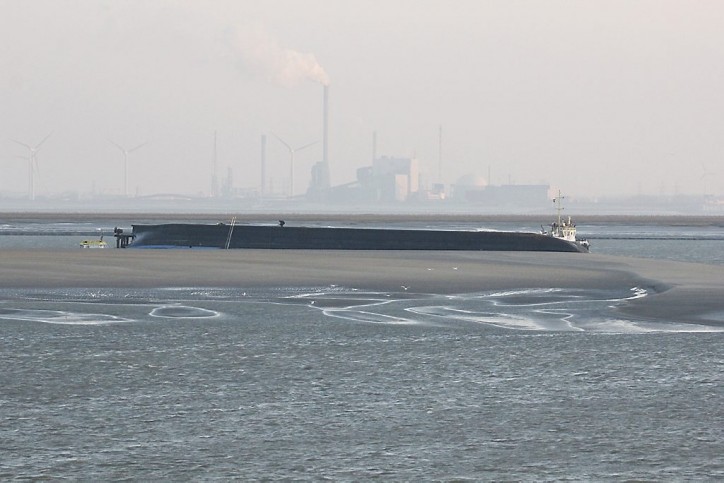 Image ANP
A couple of lifeboats of the KNRM from stations like Breskens and Hansweert arrived first on the scene with the Cadzand boat at 1 a.m., then came the police vessel P 41 at 1:15. a.m., followed by an appointed police helicopter at 2:20 a.m., along with the Maeslant of Rijkswaterstaat, the pilot boats Patrol, Gemini Pilots and Deurloo, as well as the the mine sweeper BNS Bellis - M 916 of the Belgian Navy. The Deurloo arrived on the scene with a Maritime Incident Response Group from Zeeland, divers of the Dutch Navy who had been called from Den Helder, divers from Multraship along with other ships with their respective rescue boats. They all took part in the search and rescue operation regarding the missing crew who were asleep when the vessel capsized according to reports.
The water temperature at the time was around 4 degrees Celsius.
At 3:20 a.m. the search operation was halted for a while, but at approximately 7:45 a.m. a second crew member was rescued by the appointed teams. He was in a hypothermic state, but fortunately had managed to remain conscious. Officials believe that probably an air bubble in the vessel is responsible for saving his life. The crane vessel Cormorant was called from Sluiskil and then sent to the location of the capsized ship. The accident occurred when the dredger Interballast-1 was loading cargo of gravel on board the Rick when the barge out of nowhere turned over. This resulted in the wheelhouse getting smashed. Divers knocking on the hull of the ship did not receive any answer.
The wreckage was deemed as being instable, so it was further secured by the Multratug 22 tug which had been maintaining it since 2:10 a.m. in order to not drift away. The search was then halted for a while as the rescue teams waited for the water levels to drop down. A rescue helicopter deployed from the Maasvlakte was tasked with monitoring the vessel which at the time was reported to had been searched for approximately 90%, with only the wheelhouse remaining unaccessible due to heavy damage. The Comorant has began applying slings in order to lift the ship.