Damen Shipyards Group is to present a composite Fast Crew Supplier 1605 to the market this month. Constructed at Damen Shipyards Antalya in Turkey, the company's specialist compound yard, the Fast Crew Supplier 1605 FRP (Fibre Reinforced Polymer) is a supplement to Damen's extremely successful aluminium 1605 scope. According to the company in a press release, 70 of that range have been purchased over the years.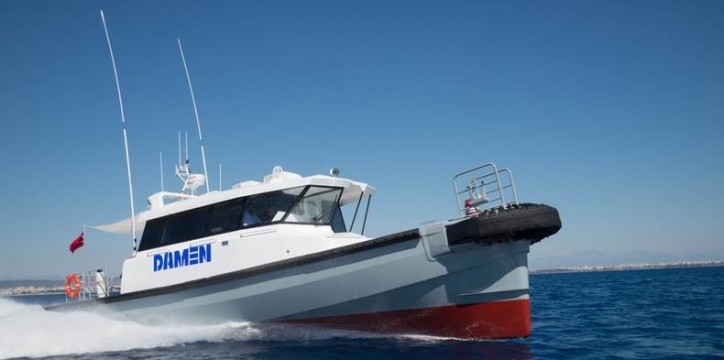 Image: Damen
The FCS 1605 FRP has the benefit of appearing very light and utterly strong because of its waterjet propulsion and composite construction. Thus the vessel can produce a speed of 29 knots. With a 12 passengers' capacity, the new 16 m vessel supplies high comfort levels because seats are placed more at the rearward section and it has a large deckhouse and excellent all-round view exposure. The new vessel can be delivered in a patrol or crew boat design. With its standardized composite building devices and series building, the vessel is represented as a cost effective alternative for clients. In addition, because of its FRP construction, the vessel is not liable to corrosion and is easy to sustain.
The first vessel of the new composite series – DMS Swift – has already started operating in the fleet of Damen Marine Services (DMS). Exceptional focus has been paid to the vessel's capacity to function in extreme temperatures – both sea and air. Following a stringent test and trial programme, the DMS Swift is now open for international deployment.
Founded in 1974, DMS promotes Damen's innovative workboat ideas and ship designs to the market. New vessels are supplied under the name of DMS and clients can hire the vessels for their specific project obligations. Alternatively, vessels can be used as a leading model while constructing a vessel at one of the Damen shipyards.