The Lysblink Seaways has been refloated on the high tide and is now anchored near the site of the grounding still leaking diesel oil. Currently, divers are inspecting the hull of the vessel for damage.
"There is a lot of salvage work still to be done and as a matter of urgency the dive inspection needs to be completed so that the full condition of the vessel is known," MCA commented.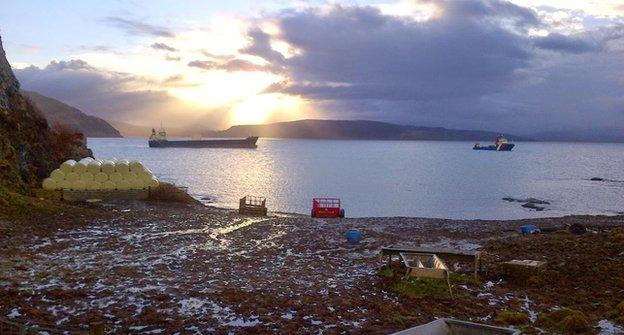 Image: MCA
On Wednesday, the DFDS Group vessel got into difficulty at Kilchoan while en route to Norway. The grounding caused the vessel to star leaking disel oil.
After conversations between the Secretary of State's representative (SOSREP) Hugh Shaw and U.K. Maritime and Coastguard Agency's (MCA) counter-pollution group, an absorbent boom has been placed to deal with the leakage of oil from the the vessel's starboard side. The amount of the leakage has not been appraised by the agency. A meticulous damage evaluation has been performed on board of the vessel by a Svitzer Salvage group.
The accident happened while Lysblink Seaways was travelling from Belfast to Norway. It found itself on the shore early on Wednesday February 18 at Kilchoan positioned upon the secluded peninsula of Ardnamurchan.
Tobermory RNLI's crew of volunteers arrived to the scene operating the Severn class lifeboat, Elizabeth Fairlie Ramsey, a little bit after 3am.
Related Video: Large container vessel grounded near Ardnamurchan