The Danish shipping giant that is AP Moller-Maersk has reported its highest-ever annual profit in 2014 as Maersk Line prospered and Maersk Tankers rebounded from a 2013 loss.
According to the company net earnings were $5.19bn, which is a significant increase from the $3.77bn in the previous year.
Of the total of $5.19bn, $2.85bn were generated from discontinued operations, primarily the sale of its Danish supermarket business, in comparison with the previous year's $394m.
Revenue for 2014 was at $47.56bn versus the $47.38bn one for 2013.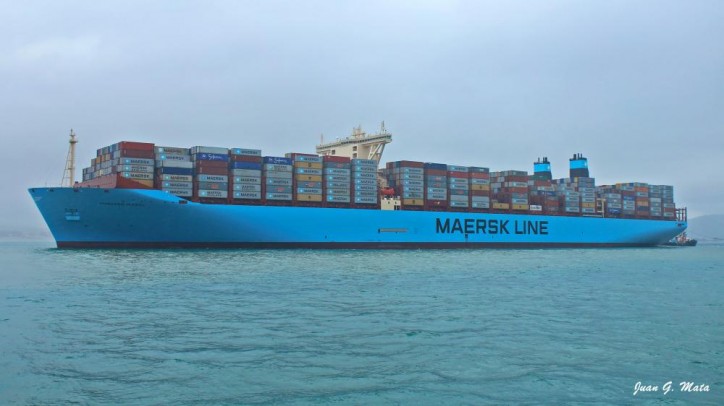 Munkebo Maersk: 14th Triple-E vessel
CEO Nils Andersen commented:
"We are very satisfied with the 2014 results which demonstrated our highest profit ever in the amount of $5.2bn."

"Despite the challenging conditions of the market we managed to achieve good progress regarding the underlying performance across the group."
Maersk Line recorded a profit in the amount of $2.34bn, which was a significant increase when compared to the one in 2013 which sat at the $1.51bn mark. The company managed to achieve this due to volumes being stronger than expected, as well as lower bunker prices, offset partly by reduced containership freight rates.
Unit costs went down by 5.4% through network efficiencies and revenue went up to $25bn from $23.7bn.
When regarding 2015, the company commented that the Maersk Line result should only improve as it seeks to make additional cost reductions, while expectations are that global demand is to grow by between 3% and 5%.
However, Maersk Oil accounted for $861m loss from a profit of $1.04bn, as oil prices went down.
APM Terminals accounted for $900m, a steady increase from the previously reported $770m, and Maersk Tankers added in earnings in the amount of $132, against a $317m loss from a year ago.
The tanker arm ripped the benefits of the improving VLCC and LR2 rates, as well as those that came along with the reversal of provisions regarding onerous contracts worth $87m and cost cuts.
Offshore shipping division Maersk Supply Service reported earnings in the amount of $201m in comparison with 2013's $187m, while salvage and towage operation Svitzer accounted a $270m loss, a sharp turn from the $156m profit it posted in 2013.