WesPac Midstream LLC (WesPac), a company among the leading providers of energy infrastructure and liquefied natural gas (LNG) solutions, and its affiliate Clean Marine Energy LLC (CME), a global facilitator of tailored solutions regarding Emission Control Area (ECA) compliance, made an announcement today according to which they've reached a signing point of a construction contract with Conrad Orange Shipyard, Inc., a division of Conrad Shipyard, LLC, to construct the very first dedicated LNG bunker barge for the North American marine market. The barge in question is going to serve the role of a critical component of the supply chain in the ongoing worldwide efforts aimed at reducing the maritime activity's environmental impact via a step-by-step LNG converting program for ships.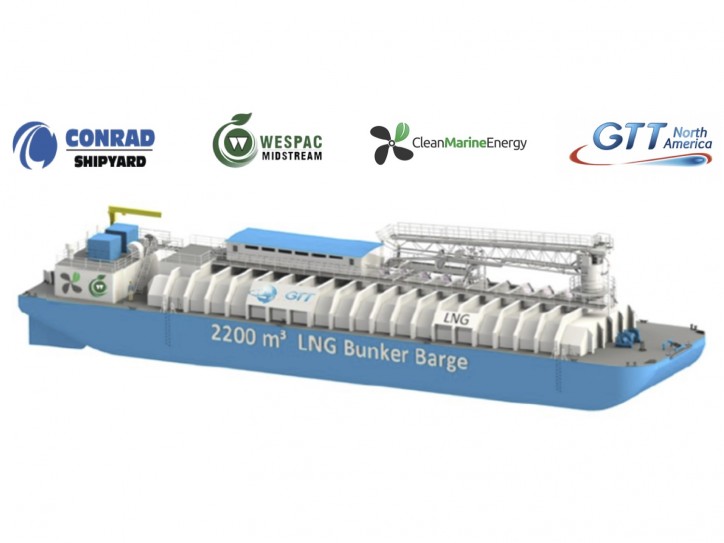 Illustration by WesPac/CME
Expectations are that the first 2,200 cubic meter (cbm) barge will be ready to be delivered early next year and plans are for it to be initially deployed in Tacoma, Washington, in order to service shipowner Totem Ocean Trailer Express's (Totem Ocean) "Orca class" RO/RO vessels, along with other LNG-powered vessels. After which the barge is to be relocated to Jacksonville, Florida to provide service to TOTE's (Totem Ocean parent company) newbuild "Marlin class" container ships and other LNG-powered vessels in the Port of Jacksonville.
The LNG barge is to feature one tank, that will be equipped with MARK III Flex cargo containment technology, provided by the French GTT (Gaztransport & Technigaz engineering and technology company), and to be built by the Conrad Orange Shipyard under GTT license. Bristol Harbor Group, Inc. is going to take all responsibility regarding the design of the vessel, with the American Bureau for Shipping (ABS) playing the role of a classification society.
This initial Tote bunker barge serves as a part of the WesPac/CME plan aimed at providing an integrated LNG solution for the aspects of engine conversion, infrastructure, supply, and delivery logistics to the shipping industry. Keeping into consideration that more and more U.S. Jones Act shipowners and operators are seeking means to meet the required 0.1 percent sulfur limits within ECAs by integrating the use of LNG as a cleaner bunker fuel, WesPac/CME has made plans to exercise its options with Conrad to build several other LNG fueling barges to provide service to other various North American ports.
Pace Ralli, CME CEO and Co-Founder, said:
"Establishing a comprehensive LNG supply and distribution network for the North American marine market is an essential priority for the shipping industry. The announcement made today puts on display the fact that WesPac/CME is making all of the necessary adjustments and taking all of the steps towards completion of the LNG supply chain in order to ensure all ship owners that LNG is going to be available at any time and at any location required."
Peter Keller, TOTE EVP, commented:
"Working with both our partners WesPac and CME on these innovative LNG projects gives us nothing but pleasure and satisfaction. This brand new cutting edge barge, that is built by Conrad and employs the membrane technology of GTT, will provide service to both our own Orca class vessels as they convert to LNG, as well as to the Marlins, the first LNG dual fueled container vessels in the world. TOTE is fully committed to protecting the environment and caring for the communities we serve and with this barge we will be able to supply our vessels with the cleaner alternative fuel that is LNG."