Ignazio Messina & C. has taken delivery of the new Ro-Ro container vessel, Jolly Cobalto, at the South Korean STX Offshore & Shipbuilding shipyard located in Jinhae. The company, which is based in Genoa, claims that it is the largest Ro-Ro container ship in the world.
The new ship, which will be sailing under the Italian flag, is to begin its maiden voyage to Europe by transporting a ro-ro cargo and expectations are for it to begin operating within the Messina regular liner services that take place between the Mediterranean ports and the Red Sea and Middle Eastern destinations.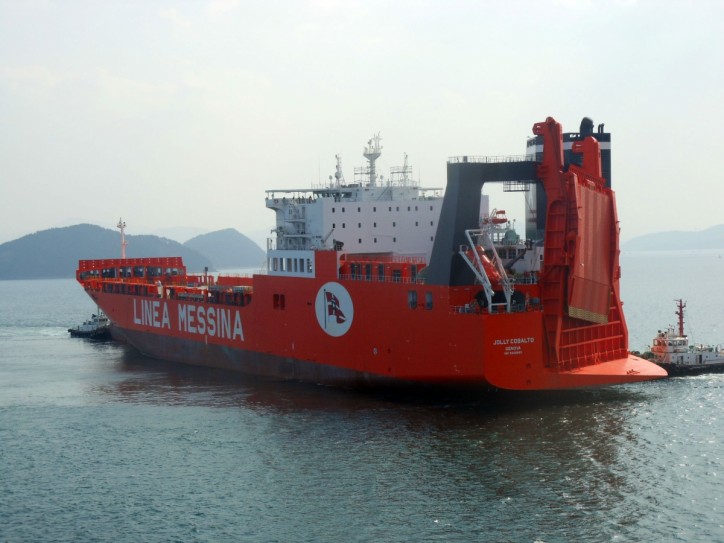 Image: Ignazio Messina
This current container ship is the sister of the Jolly Titanio ro-ro, which was delivered from the same shipyard back in November of last year. According to schedule, two additional ships from this series, the Jolly Vanadio and the Jolly Paladio are to join the fleet by some point in June this year.
The container ships are part of the second stage of Ignazio Messina & C.'s USD 500 million development plan that the company is now carrying out.
M/V Jolly Cobalto has a length of 240 meters and is 37,50m wide; it has a 3,900 TEU capacity and 6,350 meters of ro-ro cargo capacity, while also being able to reach a speed of up to 21.5 knots.
The vessel, constructed by the Korean yard under the Messina Technical office's close supervision, has a 11.5 meters draft along with a special ramp designed to enable the boarding of heavy lift cargo.