The USCG was monitoring a bulk carrier that previously had lost propulsion and briefly grounded off Welch Island on Wednesday.
The bulk carrier Miyama was en route to Kalama north berth, after having made the necessary repairs to their propulsion system. The two tugs Deschutes and Sommer S are escorting the carrier.
Watchstanders at the Coast Guard Sector of Columbia River were notified by Columbia River Pilots that the vessel in question ran aground at approximately 11:20 a.m. local time. The watchstanders then appointed a MH-60 Jayhawk helicopter crew, out of Coast Guard Air Station Astoria, to the location of the vessel in order to conduct a survey of the carrier and the surrounding area. There have been no reports of visible pollution, damage or any kind of injuries.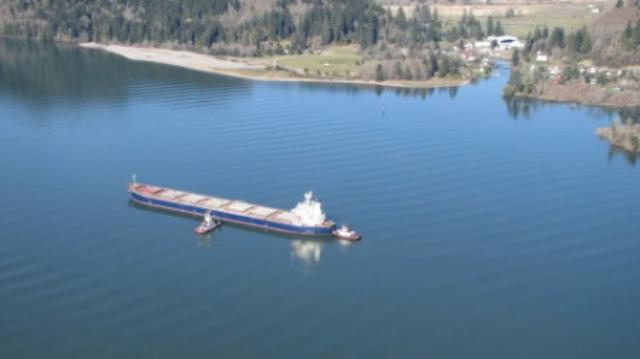 U.S. Coast Guard photo
An initial attempt of refloating the carrier was made during high tide at 1:30 p.m. with the assistance of the two tugs, but it turned out to be unsuccessful. The vessel was able to float free approximately 20 minutes later.
The carrier is to be attended by NKK class society personnel along with Coast Guard inspectors prior to resuming any kind of regularly scheduled voyages.
"The Coast Guard is currently actively monitoring the Miyama carrier as she is travelling en route to Kalama," commented Lt. Cmdr. Ben Russell, Coast Guard Marine Safety Unit Portland inspections division chief. "Coast Guard personnel are carrying out a thorough investigation regarding the cause of the propulsion system failure and are going to continue to closely monitor the vessel."
Initial reports point to the belief that the vessel's loss of propulsion was a result from a cracked cylinder. The carrier has roughly 19,500 gallons of fuel along with 23 crew members aboard.
Source: CoastGuardNews