Harvey Gulf's PSV Harvey Energy, the first ever vessel using LNG fuel to enter service in North America, began working on charter for Shell's deep water operations that take place in the Gulf of Mexico.
"Shell has nothing but the upmost delight to be the customer of this revolutionary vessel," commented John Hollowell, Executive Vice-President, Deep Water, Shell Upstream Americas. "We are filled with pleasure to be able to call ourselves partners with Harvey Gulf in regard to this innovative project. Shell's investment further solidifies the confidence we have in LNG becoming an essential part of global marine operations."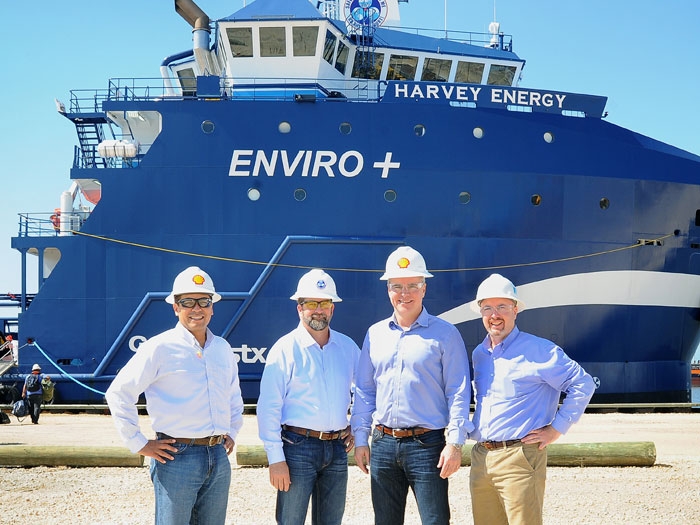 Image: Shell US
Christian Buelow, General Manager Downstream LNG Americas, further commented, "I am quite pleased to see that this innovative first-of-its-kind vessel is going to operate in North America. Shell will continue to direct its efforts towards the commercial opportunity of providing LNG fuel to clients in the region –marine as well as road transport users."
"We at Harvey Gulf are very excited to be sharing these historical maritime events with a company like Shell," further added Shane Guidry, Harvey Gulf International Marine's CEO and Chairman. "The Harvey Energy and her sister vessels are a good of an example as they come for Harvey Gulf's complete commitment to both Shell and our clients to bring them the very best available eco-friendly technology there is on the market. We are well aware of all of the environmental regulatory issues that our users are facing and with this new build program we will try and focus on working closely with them in order to address and properly deal with these issues."
The Harvey Energy, constructed at Gulf Coast Shipbuilding Group's Gulfport, MS, shipyard uses as basis the Vard Marine 1 311 design. It is a 310 ft x 64 ft x 24.5 ft platform supply vessel that is powered with the use of three Wärtsilä 6L34DF dual fuel gensets that provide it with 7.5 MW of power and it is fueled by a Wärtsilä's LNGPac system. The 5,150 DWT vessel has a capability of carrying approximately 253,000 USG of fuel oil, 18,000 bbls of liquid mud, 1,600 bbls of methanol, 10,250 cu. ft of dry cement as well as 78,000 USG of LNG fuel.
The vessel is going to operate on a basis of 99% LNG fuel and will manage to work for roughly seven days before needing to refuel. The vessel is going to load from the all new LNG bunkering facility of Harvey Gulf that is located at the company's Port Fourchon terminal. Port Fourchon happens to be the southernmost port of Louisiana and has over 600 oil as well as gas drilling rigs and platforms that are spread over a 40-mile radius. From there the vessel is going to be routinely bringing equipment and drilling fluids to Shell's platforms, like the company's brand new Olympus production platform.