MSC Oscar is expected to arrive today in the Port of Felixstowe just two months after the previously announced for the world's biggest container ship, CSCL Globe, sailed into the harbour.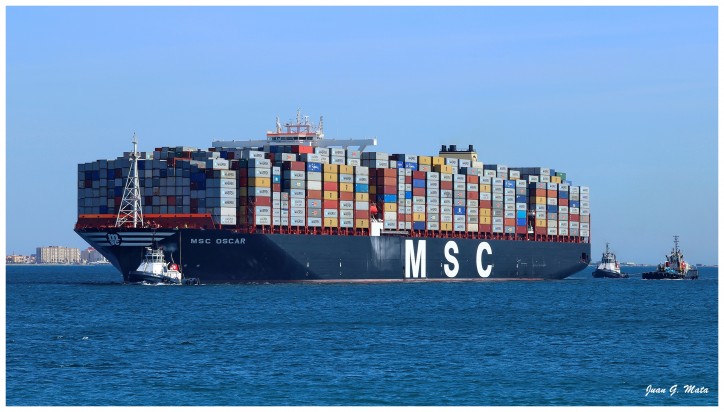 Though the short period of time, the ship-spotters interest is the same, as it was in January when the arrival of the CSCL Globe, caused traffic jams and chaos on the Landguard peninsula.
The owner of MSC Oscar- the Mediterranean Shipping Company, launched it on January 8th and today they expect viewers to enjoy the spectacular show of the arrival of the mega vessel.
The ship is the first one out of a series of similar vessels and was built by Daewoo Shipbuilding & Marine Engineering in a shipyard near Busan, South Korea. It is 395.4 metres long and 59m wide, with a draught of 16 metres.
The previous number one, CSCL Globe, which was able to carry 19,100 TEU and has the size of four football pitches, has been overtaken from the first place by MSC Oscar, which has capability to carry 19,244 TEU.
But carriage capacity is not the only unique feature of the vessel. MCS Oscar has new class fuel-efficiency engine, which is ECO-friendly and will ensure a healthier supply chain for our customers.
An interesting fact for the vessel is that it was named after the son of the MSC president and chief executive Diego Aponte.
MSC Oscar is scheduled to operate a new service, offered by the MSC, called Albatross between Asia and Europe. The route of the vessel started in Asia and included stops at Algeciras, Spain, then Rotterdam, Bremen,Wilhelmshaven.
Though MCS management is excited to take the first place of the World's Biggest container ship and expect the rest of their new class vessels, they keep in mind that marine business improves on a daily basis and they expect to be removed from the spot lights by the next container carrier able
to take aboard 20,000 TEUs.