A new megaport at Saudi Arabia's King Abdullah Economic City is aiming to take away a fair share of business from the Jebel Ali that is located in Dubai by providing offers of a quicker as well as cheaper service.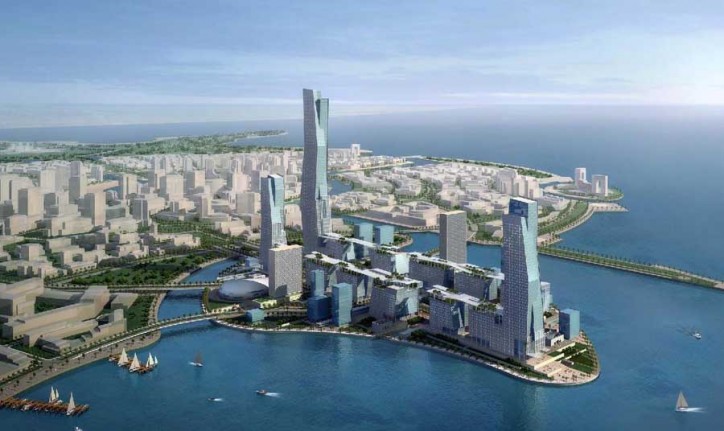 Image: SOM Architects
Officials for KAEC , one of four new cities which received approval by the late monarch King Abdullah, commented that all freight destined for Riyadh is going to be shipped directly to the all new port and not to Dubai where it used to go.
"Currently a large number of products that are destined for Riyadh are getting shipped to Dubai, but we plan on changing that. It is only natural for them to start getting shipped here as the service is cheaper as well as quicker," commented Rayan Bukhari, a King Abdullah port manager.
Sitting at 70 sq miles KAEC is going to eventually become a metropolis that will be a little bit bigger than Washington DC.
"Our aim is to create one of the largest ports in the world," he further added "We are not competing with the Islamic port of Jeddah but we are certain that we will take away business from Dubai's Jebel Ali due to the quicker, more automated offloading and customs procedure we offer our customers."
The King Abdullah Port is a mere part of the complete KAEC story. Encircling the port is the Industrial Valley of the city, while further afield you will find several areas that are designated to become residential communities, tech clusters, universities, hospitals etc.
The city's eastern side is planned to feature the second essential link to the outside world, the Haramain Station. When it officially opens its doors, the city is to become one of a total of four stops on the latest high-speed rail network of Saudi Arabia, thus establishing an important link between the megaproject, Jeddah, Makkah and Madinah.
The government has established an Economic Cities Authority that oversees the four megacities and deals with all matters related to every licence, construction permit and approval needed from different ministries.
Thus far just 15% of the city has been developed – several industrial estates, residential districts and public facilities are currently going through their respective construction phases.