The profit of China COSCO Holdings registered a surge of 54% year on year (y/y) to CNY 362.5 million (USD 58.5 million) on government subsidies regarding old tonnage scrapping.
China COSCO's stock filling on March 27th shows that the company's loss narrowed 81% y/y to CNY 1.4 billion as a result from a plunge down in fuel costs along with contraction of its chartered-in fleet. It is due to be noted that these estimates exclude one-off gains.
Back in 2014, the company contributed a great deal to the speeding up of the offloading procedures regarding old tonnage with a total of 56 scrapping of bulk carrier vessels and container ships at 3.1 million DWT. Due to this the government provided the company with subsidies in the amount of CNY 1.4 billion.
Back in 2013, the government decided to implement special policies that included subsidy funds in order to stimulate China's shipowners to scrap old vessels sailing under the Chinese flag. One of the measures was implementing a stipulation according to which if a certain shipowner was to order new tonnage at China's shipyards that matched the depleted tonnage, his subsidies would be doubled.
The company's revenue accounted for a 4% y/y rise to CNY 64.4 billion.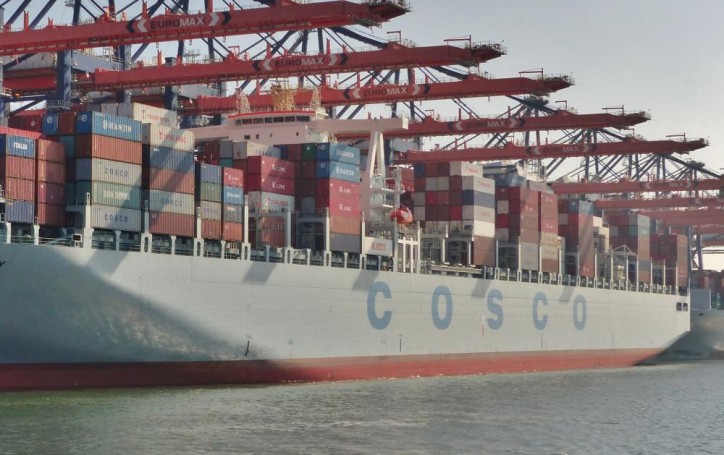 In 2014, China COSCO's operating box-ship fleet was expanded by 7% y/y to 840,692 TEU for 175 box ship vessels. Keeping into consideration all new container ship orders the company's orderbook totaled at 117, 960 TEU.
As of 2014's end the company's bulker tonnage registered a 17% y/y decrease to 23.4 million DWT. It had received orders for 40 bulk carrier vessels with a total of a 3.5 million DWP capacity.