Shipbuilder Fincantieri has awarded Rolls-Royce a contract according to which the latter is to supply the former with a fully integrated propulsion system that is to be used for Norway's brand new Polar Research Vessel. The vessel in question will be focused on performing important environmental research operations at the North and South Poles.
The system provided by Rolls-Royce will feature generator sets with a power electric system, along with a range of thrusters and control and automation systems.
The vessel will be named FK Kronprins Haakon and will have a length of 100 meters and a beam of 21 meters. It is a NVC 395 design for which the Norwegian Institute of Marine Research placed an order to Rolls-Royce. The detailed design is to be carried out by the above-mentioned Fincantieri shipbuilding company.
The vessel's design enables it to operate in rough ice conditions, and its equipment will allow it to carry out a large number of marine research operations, like metrological studies, monitoring fishing stocks, sea floor mapping and sampling.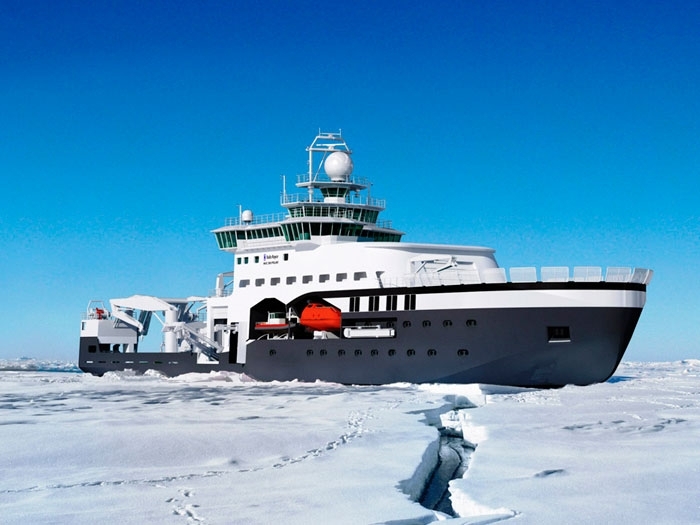 Image: courtesy of Rolls-Royce Plc.
"We have employed every drop of know-how we have gained over the years regarding offshore as well as specialized ships in order to design a technology-intensive vessel that will be able to function in the roughest of environments. We are filled up with delight by this opportunity to work together with Fincantieri teams in Norway and Italy, so that we can deliver this new innovative project and further solidify our long and successful relationship that has been established over the years," commented John Knudsen, Rolls-Royce, President – Commercial Marine.
The Norwegian Polar Institute and the Norwegian Institute of Marine Research (IMR) play a consulting role for the Norwegian authorities, and make a fair share of contributions towards maintaining all administration standards in Norwegian waters and polar areas in order to make sure that the areas in question keep their respective positions of being among the best-preserved wilderness areas in the entire world.
According to the contract, Rolls-Royce will provide two Bergen B32:40L6ACD and two Bergen B32:40L9ACD diesel gen sets, along with US ARC 0.8 azimuth main thrusters, a power electric system and Polar tunnel thrusters. The company is to also include a range of electrical systems.
The building process for the innovative vessel is scheduled to be carried out at Fincantieri's Integrated Shipyards Riva Trigoso-Muggiano, in Italy, which will be followed by several final outfitting activities to be conducted in Norway at Fincantieri Group member Vard's respective Langsten shipyard.
Expectations are that the vessel will become operational at some point during 2017.