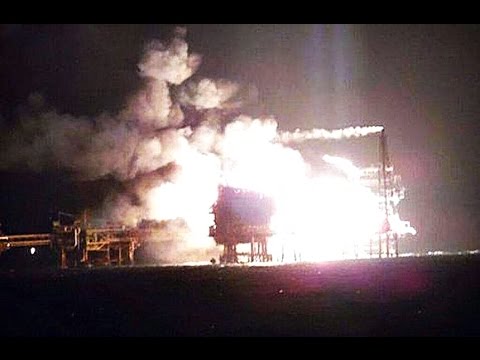 On Wednesday, a Mexico-based Pemex platform suffered heavy damage due to an explosion and a subsequent fire that resulted in the death of at least 4 workers, while causing injury to another 16 and the evacuation of 300.
Eight vessels equipped with water cannons were appointed to the scene in order to combat the blaze at the Abkatun A-Permanente platform, which is located off the eastern Campeche state coast at the Gulf of Mexico.
The fire blast occurred at 3:40 a.m. in the platform's dehydration and pump section, as reported via a statement by the ASEA energy safety agency.
"The appointed teams have managed to contain the fire but it has not yet been completely extinguished. Fortunately, the explosion did not cause any oil spillages," a Pemex spokesperson commented.
Around 300 workers were evacuated and then taken to other platforms that are situated in the area. All injured workers have been transported to the company's general hospital in Ciudad de Carmen, with two of them being in critical condition.
According to Pemex, one of the deceased was a company employee and another one had been currently employed by Cotemar, a contractor. The two other victims have not yet been positively identified.
"Our priority regarding this current situation is to guarantee the safety of the personnel, as well as manage to contain the blaze and provide the necessary care for all injured. We have successfully evacuated all of the workers from the rig," the ASEA agency commented.
President Enrique Pena Nieto expressed his condolences to the victims' families and issued orders for an immediate investigation of the case, which is to be led by ASEA.
The Campeche Sound, which is located at about 85 kilometers (53 miles) off the coast, has two of the largest shallow-water oil deposits in the whole of Mexico, with 200 platforms responsible for the extraction of 78% of the country's crude.
According to various analysts and a large number of reports, the incident has managed to contribute a great deal for the rising of crude prices, as observes saw them surge on Wednesday, with the US benchmark going up by $2.49 and reaching $50.09 per barrel while London prices raised by $1.99 thus reaching $57.10.
Photos of the burning oil rig platform