Merely a month ago, Samsung Heavy Industries set the world record for the biggest container ship order and is now set to brake it, yet again, after announcing that OOCL (Hong Kong) placed an order for six 21,000 TEU-class ultra-large container vessels on April 1st. The company set the previous record when MOL of Japan ordered four 20,100 TEU-class container vessels on March 2nd.
The current order's total value amounts to approximately $950 million.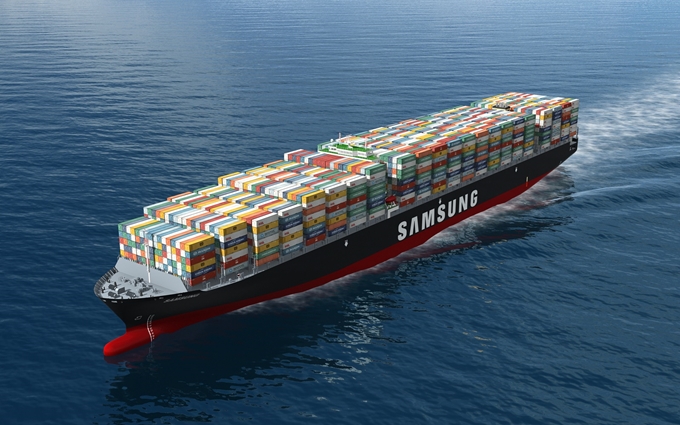 Illustration: SHI
The company has managed to solidify its leading position on the market by accounting for ten out of the total twelve 20,000+ TEU container ships that were ordered worldwide. The current contract features options for six vessels, so it is highly probable that SHI will be receiving additional related orders.
The company has pointed to its infrastructure, research capabilities and eco technologies as important factors when regarding the manner by which it is able to win orders. SHI has demonstrated a continuous effort of further developing ships that are optimized for ship operation plans along with large-sized container vessels by employing a number of testing facilities such as the cavitation tunnel and the towing tank at the Daedeok Ship Research Center.
The ships that were just ordered are to be 400 meters in length and 58.8 meters wide which resembles the specifications of the previously ordered 20,100 TEU-class ships. What makes these new vessels different is that they will be able to load an additional 1,000 of 20-feet containers, due to the fact that they accommodate one extra layer of containers.
They are also going to be equipped with several energy-saving systems, such as rudder bulbs, stators and propellers, all of which developed by SHI.
The ships are scheduled for delivery by November of 2017.