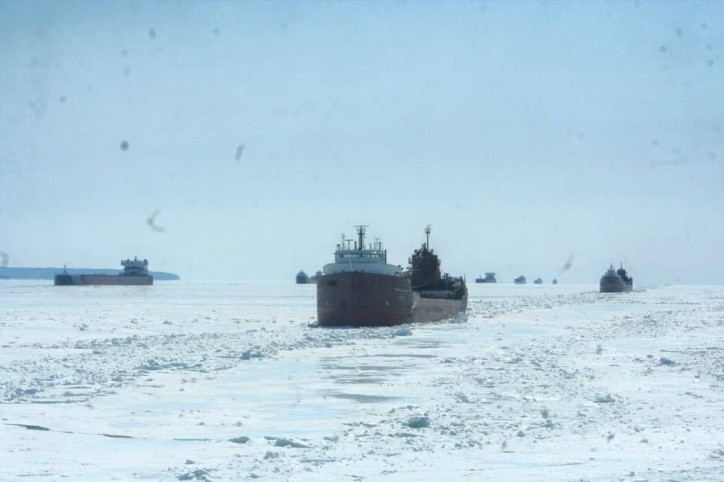 The icy situation at Lake Superior has continued to make life harder for shipping operators this week, forcing one freighter at minimum to go back to port due to sustained hull damages.
The 63-year-old Kaye E.Barker self-unloading bulk carrier, property of Interlake Steamship Co. is going to be transferring its cargo consisting of iron ore to its fleet-mate in the face of Lee A. Tregurtha, following an accident revolving around a puncture in the forward hull of the vessel caused by thick ice.
Mark Gill, Soo Lock Coast Guard director of vessel traffic, commented that there is high chance that the Barker is going to head straight to Sturgeon Bay, Wisconsin to undergo repair procedures, following a short stop at Sault Ste. Marie in order to unload its cargo and go through several inspections.
The Barker is among 10 vessels that Coast Guard officials have been attempting to plow through a large ice field that separates Whitefish Bay from the rest of Lake Superior. Although, the operation has now been going on for several days, there has not been much progress made.
The Pierre Radisson heavy ice-breaker is now being appointed from Montreal to the vessels' location in order to provide assistance to the three cutters that are trying to handle the ice issue currently.
The U.S. Mackinaw heavy ice-breaker is working in a reduced capacity mode due to sustaining damages to its azipod engines previously while working at Whitefish Bay this past week. The ship's turning ability and power have been limited by the inflicted damage.
Gill commented that it is a common issue for Great Lakes freighters to sustain hull damages during the months of winter and then spring. He further added that since the opening of the locks, which took place on the 25th of March, several vessels have suffered one form or another of ice-related damages.
Statistics show that 19 ships in total were reported to have sustained damage during 2014.
"The Barker, which has a length of 767 feet, has no cause for concern. There was a minor flooding issue but it was dealt with via the use of pumps and some temporary patching-up procedures," he commented.

"Sadly, this scenario has become all too familiar. We have had to deal with maybe at least six vessels already that have sustained some form of damage. And all of the ships I'm referring to are old vessels with brittle steel, and you put them up against jagged, thick ice," Gill said.
Expectations are that the Barker will reach Sault Ste. Marie on Wednesday, April 8th.