The Germany-based Meyer Werft shipbuilding company has chosen to exercise its option and buy the remaining stake of 30% at the Finnish Meyer Turku from the state-owned Finnish Industry Investment (FII), thus establishing itself as the shipyard's sole owner.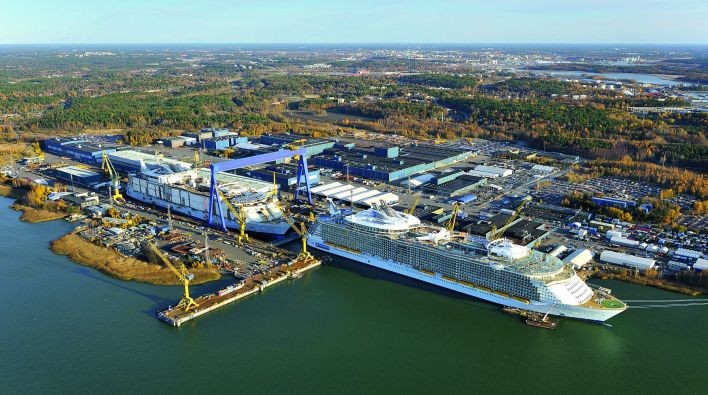 Photo: MeyerTurku
In September of last year, the company and the Finnish Government both agreed to and signed a share purchase agreement with the shipyard's owner at the time, which was STX Europe. The agreement stipulated that Meyer Werft is to acquire a stake of 70% and for the Finnish Government to purchase 30% of the total share capital via FII.
FII comments that according with its policy regarding a potential exit from all made investments, an agreement was reached for Meyer to obtain a call option through which to buy the minority stake in the shipyard owned by the government-run company.
"When we made the purchase Meyer was operating strictly German-based shipyards and thus plans for investing in Finland had to be analyzed thoroughly seeing as how this was an important step for the company. All in all, I have high hopes that by buying out the shipyard we are going to display the necessary confidence to make others believe that we are able to transform Turku shipyard into a successful long term shipbuilding venture," commented Jan Meyer, Meyer Turku CEO.
Expectations are for the change regarding the ownership structure to be put in effect within the following few weeks.
"We are nothing but happy that the Turku shipyard is able to develop in such a positive manner. We made the previous engagement as a pure investment in Finland's strengths meaning the shipyard along with the strong maritime cluster. We are delighted to see that Meyer is demonstrating confidence just like us regarding the Turku shipyard. The benefits from this bold step will not only be ripped by the yard itself but by the whole maritime cluster and Finland in general. The company has been off to a splendid start here in Finland, as it has registered a large amount of new Turku orders. I send out my congratulations to Meyer and the whole Turku yard for their stimulating start," commented Jan Vapaavuori, Finnish Minister of Economy.