Rolls-Royce pure-gas engine propulsion systems will operate the Kvitbjørn, Nor Lines` vessel between Europe and Asia. The ship is the first one sailing with the new engine system operating with liquefied natural gas (LNG) as the vessel`s bunker fuel.
The naming ceremony of the 5,000 dwt cargo vessel Kvitbjørn took place in Stavanger. The short sea cargo carrier was built to award-winning Environship concept of the Rolls-Royce company.
The cargo vessel started its voyage from the Chinese shipyard Tsuji Heavy Industries shipyard in Jiangsu, passed through Singapore and sailed to Norway. At the time of its travel LNG bunkerings were made in Spanish Cartagena port and the Indian Cochin port. The voyage finished on 29 March in Bergen is the longest ever undertaken by a ship running only on liquefied natural gas.
According to Tor Arne, representative of Nor Lines the success of the voyage confirmed not only the energy-saving and emissions-reduction attributes of the LNG engine propulsion systems of Rolls-Royce but provided evidence to owners of larger tonnage that LNG was not just for short sea vessels.
The Rolls-Royce technologies included in the Environship concept ensure efficiency savings for the ship owners because can be easily adapted for different ship types. Among these technologies are the LNG powered Bergen engine, the Promas combined rudder and propeller, an innovative wave-piercing hull design and a hybrid shaft generator used for the optimization of electrical power. The Environship technologies help for more than a 40% reduction of CO2 emissions in compare to similar diesel-operated vessels.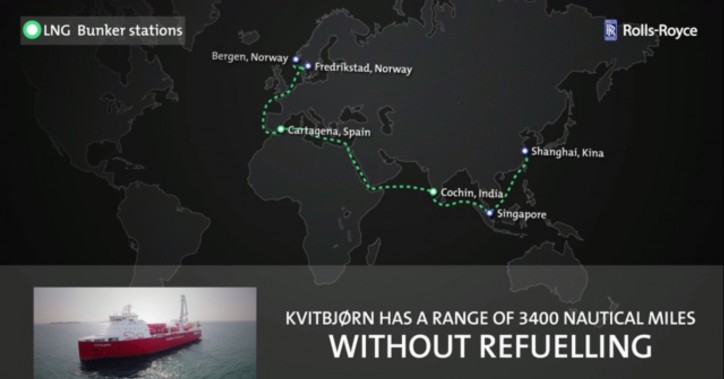 The LNG Systems Sales Manager of Rolls-Royce Company, Mr. Oscar Kallerdahl, said:
"The realisation of Kvitbjørn is a significant milestone in the shipping industry's fundamental transition from diesel fuel to LNG. It is important to note that the Bergen B35:40 gas engine is not a dual-fuel engine. A pure gas engine and shaft generator driving a controllable pitch propeller is the most effective configuration for keeping emissions low and improving fuel consumption."
In the engine system is included PTI, a hybrid shaft generator for electric power Take in, which guarantee redundancy and flexibility of the engine system when it is necessary.
The Rolls-Royce President John Knudsen, said:
"We congratulate Nor Lines on the delivery of Kvitbjørn, and wish the company every success in their future steps towards a greener shipping industry. The success of this historic delivery voyage will give encouragement to those customers looking to embrace more environmentally friendly ship designs and technology."
The Kvitbjørn carrier soon will start to transfer cargo. Delivering operations will be in progress in ports between Hammerfest in Norway, The Netherlands and Hamburg, Germany.
A new sister ship Kvitnos will join the Nor Lines fleet with delivery expected in June.