According to NGO Carbon War Room (CWR) a number of leading bank in the shipping industry, such as KfW IPEX-Bank and HSH Nordbank employ energy-efficiency statistics for the purposes of viable investment and finance decision making.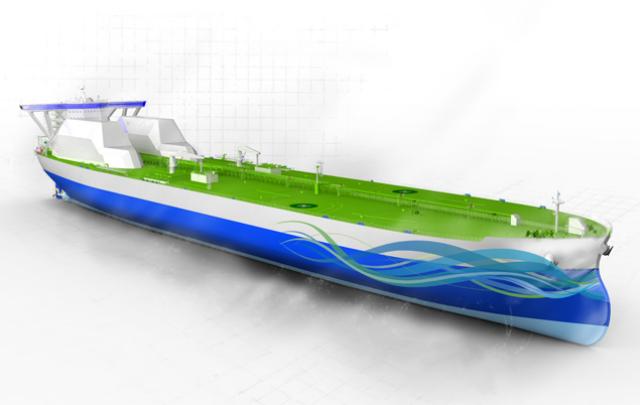 Triality Concepr by Det Norske Veritas
CWR conducted a survey on a number of banks that include the two mentioned above, and the results have displayed that vessel efficiency rankings, like the A to G GHG Emissions Rating that was developed by the independent RightShip ship vetting company and CWR, have become an integral part of the assessing process for risk and return, with inefficient vessels now being accounted as a high-risk investment option.
Information related to energy efficiency is also being employed for credit-approval processes for purchases of vessels, re-sell or scrapping decisions and loan assessments regarding retrofit projects, with banks placing efficiency as a major factor indicating the profitability of a certain vessel.
"Keeping in mind the beneficial risk profile along with the many environmental benefits that come along with eco-ships, it's only natural that we lean more towards them that towards ships with lower energy efficiency levels. There is a definite trend towards a two-tier market regarding vessels with high- and low- efficiency levels – vessels with a higher efficiency level have better marketability and demonstrate higher potential regarding revenue for ship owners hence this is why they have become a more preferred risk profile for financiers," said Garsten Wiebers, Maritime Industries Global Head, KfW IPEX-Bank.
The two-tier market's existence is becoming more evident by the day: 25% of non-container charter market vet potential ships for efficiency preceding charter and current RightShip statistics point to the fact that an A rated vessel's lifespan on average is likely to surpass that of a G rated vessel by as much as eight years.
Additionally, back in 2014, three different ports - Port of Prince Rupert, Port of Barbados and Port Metro Vancouver started using the A to G GHG Emissions Rating system in order to provide credible financial incentives to the respective owners of vessels with a higher efficiency level.
KfW IPEX-Bank has also stated that container vessels with higher efficiency and comparable capacity reportedly demonstrate a 30% decrease in bunker fuel consumption than their inefficient counterparts at the same operating profile. The showings represent a major cost benefit, especially if competing ships are to switch to some higher-cost distillate fuels in the specified Emission Control Areas.
When accounting for the global shipping industry, the facts show that every single vessel of its 90,000+ fleet is an investment worth several million dollars so ship owners and operators alike have to seek at least partial financial funding from various banks in order to make sure that they can successfully construct, buy, enhance and maintain their assets, which only leads to the natural conclusion that the leading shipping banks have quite an influence regarding the market's every move and development.
According to CWR, every bank is to diligently control its market exposure and efficiency is quickly turning into a major measure.