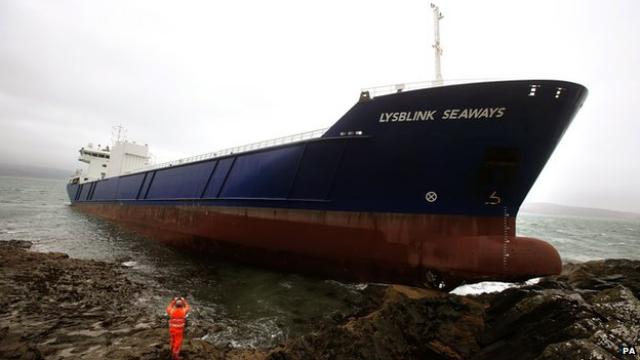 DFDS Seaways has issued confirmation that its 7,409 GT Lysblink Seaways cargo vessel is going to be scrapped. On February 18th the ship grounded in northwest Scotland.
The ship was to transport a load of paper from Belfast to Skogn, but after it had passed through the Sound of Mull it failed to change its course and collided with rocks near the Kilchoan village. The vessel was confirmed to have sustained serious damages by some local residents after which, during the first week of March, it was towed to the Inchgreen Drydock that is located in Greenock.
DFDS issued confirmation on Monday that the damage sustained by the vessel's hull was far too great for any potential repair procedures. The vessel has been now towed to DRB Marine Service of Rosneath, on the River Clyde's opposite bank, in order to be recycled.
The incident involving the grounding of the ship – one among several that have occurred in the area over the past few years – has lead to local politicians along with community associations demanding improvements towards maritime safety and calling for an emergency towing vessel to be reinstated in Minch.