On early Wednesday the 603-foot Mississagi ran aground near De Tour Village, Michigan while sailing along St. Marys River. U.S. Coast Guard officials have responded to the ship's distress call and have dispatched teams to its location.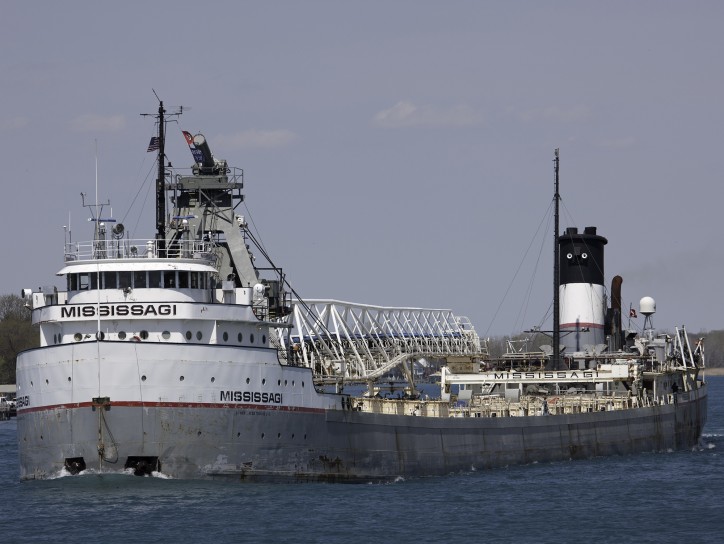 Photo: Jack Salen
The Canadian-flagged ship was tasked to transport a cargo consisting of stone and while transiting downbound the St. Marys River from Bruce Mines, Ontario it ran aground roughly 4 miles northeast of De Tour Village in the Potagannissing Bay.
No reports have been issued regarding any potential injuries sustained by the crew or any indications of possible pollution.
At approximately 1:00 a.m. the Mississagi 's captain sent out a distress signal that the carrier had run aground on shoal water near the De Tour Village. The call was received by a watchstander at the Coast Guard Sector of Sault Ste Marie, Michigan.
The Coast Guard then immediately appointed a 45-foot long Response Boat-Medium from the station of St. Ignace, Michigan along with a 25-foot-long Response Boat-Small that was at the time stationed at Sault Ste Marie. A helicopter was deployed to the ship's location at first light in order to issue confirmation that there was in fact no pollution – the MH-65 Dolphin was dispatched to the scene with a crew from the Air Station of Traverse City, Michigan.
The vessel's bow is aground and its fuel tanks are near its stern. Vessel traffic in St. Marys River has remained normal with no reports of any other issues having been made as of the moment.
The Coast Guard has appointed marine inspectors from the Sault Ste Marie Sector in order to estimate the damage sustained by the vessel.
The Mississagi crew has begun working with representatives from the Northeast Tech Salvage Company in order to devise a plan for properly salvaging the vessel.
The Coast Guard Buckthorn vessel's crew has been deployed to provide support for navigation verification.
The Coast Guard has also decided to establish a safety zone around the ship with a range of 500 yards.
Source: USCG