Today Mitsui O.S.K Lines Ltd. came out with an announcement that it has managed to sign a contract with Minaminippon Shipbuilding Co. Ltd. (MNSB) for the construction of four next-generation car carrier vessels. The ships are scheduled for delivery in 2017 and 2018, they are to serve the purposes of MOL's global car carrier-related services.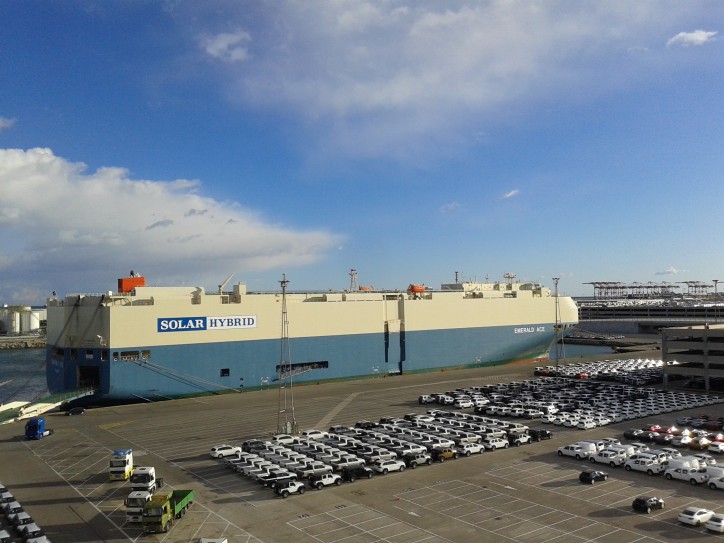 The newly-ordered car carriers' deck construction is to be greatly modified in order to increase the current deck number of 12 to 14. The liftable decks are to also go up from 2 to 6 – this will result in the option of placing two adjustable decks between two pre-fixed ones. The brand new liftable decks are going to provide better flexibility when regarding the accommodation of variable in height vehicles, improving the efficiency of the loading procedures and complying with demands for a more diversified model of vehicle transportation.
MOL has decided to name the car carriers equipped with this new deck model the Flexie series. It plans on not only developing a worldwide vehicle transport service marketing effort that will aim to promote the new carriers' liftable decks' flexibility but also further enhancing the marketing efforts of the group towards building awareness of its MOL Project & Heavy Cargo service.
The car carriers in question are to be equipped with a special diesel engine that will be controlled electronically and will have Low Load Optimization (LLO) tuning by Exhaust Bypass (EGB) technology. The new vessels are also going to feature a waste heat energy recovery system for their generator engines along with a technology that will allow them to reduce their electric power consumption levels. Additionally, the design of the hull of the vessels is to receive some improvements regarding its form – more specifically aimed at low speed-range, given the analysis of existing carriers' performance. The ships are going to serve as a step going forward regarding the aspects of their wind-pressure reducing design, which is one of the Senpaku ISHIN project's basic technologies, which has been under development by the MOL since back in 2009. The vessels' reduced wind resistance susceptibility will contribute towards the improving of fuel efficiency when comparing them to current ships and greatly lower their eco impact.
The vessels are to each have length of 199.95 meters and a respective breadth of 32.2 meters. Their capacity will allow them to transport 6,800 standard passenger vehicles at a time.
The MOL decided to take a more persistent and a bit aggressive approach for the development of the innovative car carriers, as evident by the fact that back in 2012 the company was able to launch the first newbuilding hybrid car carrier in the world, which was the Emerald Ace. The company still puts all of its efforts towards complying with the needs of its customers, as again evident by its new car carrier services which rip all the benefits of the new cutting-edge technologies.