New sonar observations have confirmed that the Rena wreck has moved further down in the Astrolabe Reef and is falling apart.
In the period of 18 -23 March, ADUS Deep Ocean surveyors made a multibeam survey that has confirmed the wreck's deterioration.
Cyclone Pam passed through the east of East Cape in the middle of March, causing rough sea around the reef.
In the last known image, the wreck is shown as a composition in three colors: blue – how was the wreck back in 2012, red – March 2014 and grey – the wreck after the passing of Cyclone Pam in March 2015.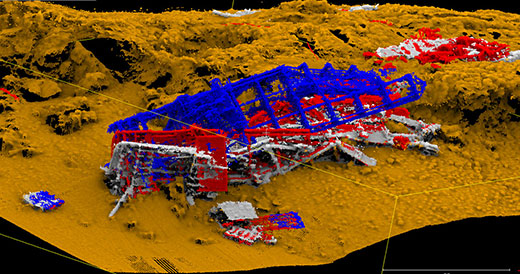 This image demonstrates how the aft section is expected to continue deteriorating and moving further down over the time into the deep waters.
After some diver's inspections, the latest ADUS survey identified movements of the bow pieces, which was a reason previously trapped debris, now to be seen recovered.
Approximately a tone of oil-remainings was taken out from the engine room, which is now substantially degraded.
Deep penetration dives were conducted by Resolve and Fire divers at depths 35-48 meters into the ship wreck.
The appearance of intermittent oil sheens on the surface during wreck clearance operations was the reason for the oil recovery work.
When the divers found the source causing the oil sheens, they had the chance to recover safely the oil pockets up to the surface.
The New Zealand and Salvage unit, based in Wellington, are continuously working on the recovery at the reef. They have increased the number of divers included in the recovery operations and up to the moment 43,3 tones of debris have been recovered.
In the next few months, NZDS will proceed with working on the removal of any diver entanglements and the recovery of aluminium ingots and inorganic materials to a 30-meter depth. They have to deal as well with any additional oil leaks from the shipwreck.
In addition to the oil recovery, the NZDS will continue working on the removal of any recoverable deposits of copper. For that purpose underwater suction equipment, offered for the recovery work by the owner and insurer, will be used.
Divers with substantial experience, who were working earlier on the Rena wreck, are part of the recovery team.
Source: Rena Project website