The leading power and automation technology group that is ABB has come up with a design for turbochargers, capable of providing power to the world's largest ships. The first of which was the 19,100-TEU China Shipping Container Lines (CSCL) Globe that completed its maiden voyage a few months ago in February of this year. It was directly followed by the 19,224-TEU Mediterranean Shipping Company (MSC) Oscar. Both of the vessels have engines that swiftly incorporate the turbochargers designed by ABB and both happen to be the first to come out of upcoming series of ships that are to feature the ABB-designed turbochargers.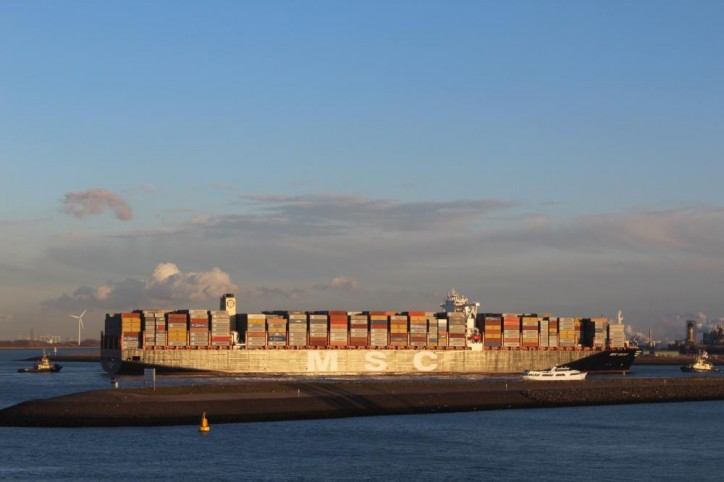 Photo: Ktijn Hamelink
The MSC Oscar and the CSCL Globe happen to be the world's largest vessels that are currently in service, as they are the only container carriers operating at the moment with a capacity of more than 19,000 TEU. Their design is key to why they are able to feature this record-shattering cargo capacity but it is also worth mentioning that they are equipped with the largest engines out there. Given the cutting-edge engine systems and ABB's high efficiency turbochargers the ships have demonstrated an increased engine efficiency along with lower fuel consumption and have managed to cut down on their emission levels.
The ABB-designed turbochargers have been fitted under license by Hyundai Heavy Industries (HHI) on each of the two vessels. They have displayed their significant effect regarding fuel consumption which is a major issue for large ships that are constantly faced with dilemmas for lowering down emissions.
Each of the two vessels has been integrated with a MAN diesel engine. The MSC Oscar is equipped with ABB 180-L turbochargers and the Globe features three ABB A185-L turbochargers. The vessels' respective auxiliary engines are also the product of ABB's design team. Both ships serve as the first entries of a series that are set to come along with the same engine types and turbocharger configurations.
"Container carriers have been able to almost double in capacity over the course of these past five years, and with fuel cost behaving as it has, engine efficiency is to remain a top priority for both owners and operators. We used detailed feedback received from marine industry customers as basis for developing the A100-L series of turbochargers. In order to meet the specific requirements that come along with vessels of this size they were equipped with established technology systems that lower fuel consumption levels and fully comply with IMO Tier I, Tier II and Tier III limits and NOx emission standards. Naturally, we are glad that we took part in the powering of these enormous innovative vessels, and we are excited about the even larger ones that are to come in the following months," commented Senior General Manager, Arie Smits, ABB Turbocharging, Switzerland.
ABB is able to deliver the highest level of reliability, power and productivity to its global base of clients by employing a worldwide network of marine service centers along with a comprehensive range of various marine systems and solutions that comply with the high safety and environmental regulations.
Source: ABB