A new robot, which task will be to deploy booms in case of an oil spill, will be introduced at the Port of Gothenburg. The new technology will ensure faster and safer clearance of oil spills in the Gothenburg Port.
As the largest Scandinavian energy port, where crude oil is transferred to be refined into diesel, petrol, asphalt and other products and in spite of the very strict safety regulations, there is always a possibility for a technological accident causing a spill of oil.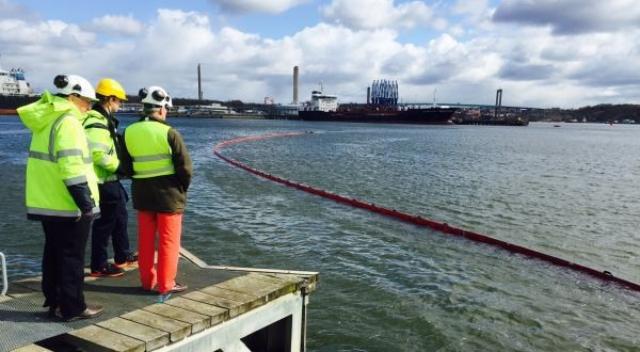 Dan-Erik Andersson, the head of Operations at the Gothenburg Energy Port said:
"What is most important is that the oil is contained as quickly as possible to allow clearance to begin."
The port has made an investment of SEK 3,5 million for an automatic boom, which is GPS-controlled and made of plastic. In case of oil spill, a staff member at the Energy Port control center presses a button on the wall. A torpedo-like unmanned craft is activated, traveling around the dock and towing a 400-meters long boom, which is 50 cm below the water surface and 20 cm above it.
"The robot tows the boom from one pier to another. It could be said that it forms a large bag in which the oil is collected. It has already been in operation once for testing and the results were good," commented Dan-Erik.
The automatic boom, in comparison with towing booms manually using boats, saves time. It takes about 10 minutes for oil spill containing with the help of an automatic boom, compared to the triple time containing with the customary approach.
"These are valuable minutes if we are to limit the spill as much as possible," added Dan- Erik Andersson.
The automatic boom project started five years ago in collaboration between the local SP Marine and the Gothenburg Port.
According to Andersson, it has taken a long time to adapt the robot to the conditions in the Gota Alv River and at the Energy Port.
Similar robots are being designed and put in operation in Stenungsund, used in Malmo, but by now this technology remains unique to Sweden.
Source & Photo: Port of Gothenburg