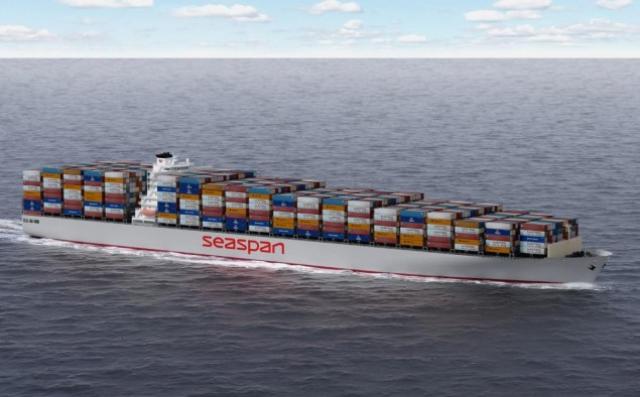 Seven new container ships have been ordered by NYSE-listed Seaspan and they are to be built in the Philipines and China. The total order value has been reported to be in the amount of $653.5 milion.
The company has chosen to go with Hanjin Heavy Indsutries' Subic Shipyard (HHIC-Phil) for the construction of five boxships (11,000 TEU). The two parties signed the contract on April 13th, with the total price of the vessels being $467.5 million.
According to schedule the five boxships are to arrive at some point in 2017 and are going to be chartered for a 17-year period to a market-leading operator, as reported by Seaspan. The company declined to give out the name of the operator in question but stated that he is going to buy the ships for a preset amount when the appointed contracts are no longer in force.
Out of the five vessels, three are going to become property of the Greater China Intermodal Investments company (GCI), with which Seaspan has established a right of first refusal agreement. The other two ships are to become property of Seaspan.
The company ordered two 10,000-TEU container carriers on April 27th from Jiangsu New Yangzi Shipbuilding Co. and Jiangsu Xinfu for the total amount of $186 million. If all goes as initially planned the two vessels are to be delivered in 2017.
The vessels are being built in accordance with the fuel-efficient SAVER design of Seaspan.
The corporation (headquarters: Hong Kong) has not been able to finalize the manner in which the ships are going to be allocated with GCI as of yet.
"The transactions contribute for an increase of our fleet, as the number of vessels we own and manage goes up to 118. Keeping in mind our strong as well as flexible capital structure, we are bound to remain in a fairly good position to capitalize on potential growth opportunities that will arise as we continue our efforts of providing some of the leading liner companies in the world with large and fuel-efficient container carriers," commented Gerry Wang, Seaspan CEO, co-founder and co-chairman, via a statement.