The first LNG-ready ultra-large container ship of the United Arab Shipping Company (UASC) was named at Hyundai Samho Heavy Industries (HSHI) in Mokpo, South Korea.
The MV Barzan is the industry's most eco-efficient container ship with an 18,800 TEUs- loading capacity. The DNV GL classed vessel is the first in a new class of leading ultra-large container ships and the largest one in the current fleet of UASC. It will set new standards for energy and fuel efficiency, as a result of optimization in the vessel design and lots of propulsion and equipment efficiency technologies.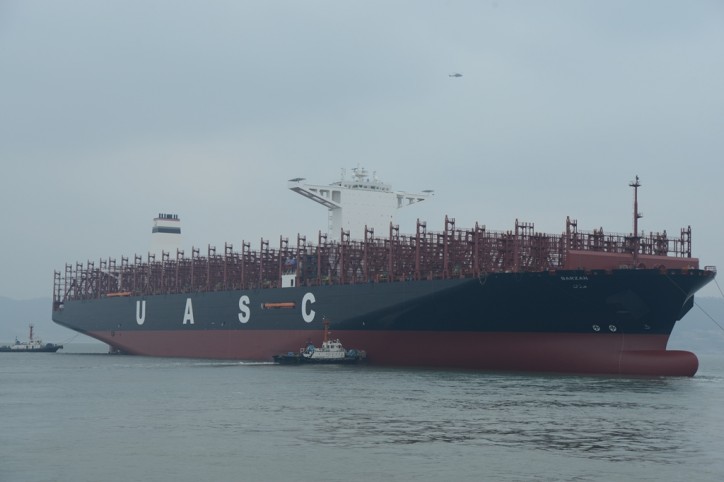 Indications of the preliminary calculations of the EEDI (Energy Efficiency Design Index) value show a decrease near 50% below the 2025 limit, set by the International Maritime Organization.
UASC officials said, the company was working on the establishment of a range of new metrics and targets, which can provide an additional reduction in carbon emissions for all vessels in the UASC fleet.
The CO2 output per TEU of the vessel is more than 60 % less in compare to the 13,500 TEUs ships delivered 3 years ago.
Jorn Hinge, the president and CEO of UASC said:
"We understand that providing environmentally friendly transport solutions and recognizing environmental initiatives around the globe are no longer a choice; they are a necessity for both our organization and our customers."
He added that MV Barzan and the 18,800-TEUs vessels would complete the smaller 15,000 TEUs fleet of the company as part of the Ocean 3 services, which operated on the trade line Asia-Europe.
G.J.Ha, the president and Chief Executive Officer of Hyundai Sambo Heavy Industries said:
"I am certain this vessel will further promote UASC's and its alliance partner's business competitiveness, and our own reputation as Builders, thereby paving the way for a closer relationship between UASC and Hyundai Heavy Industries Group."
By 2016 the UASC is expecting the delivery of 11 new-built 15,000 TEUs vessels and six with a capacity of 18,800 TEUs. Until the end of 2015 the company will receive 10 new ships.
Source & Photo: UASC