The Kuala Lumpur Express was able to depart from Hamburg once again on May 6th at 1:15 p.m. en route to Southampton, ETA where she should arrive on May 7th.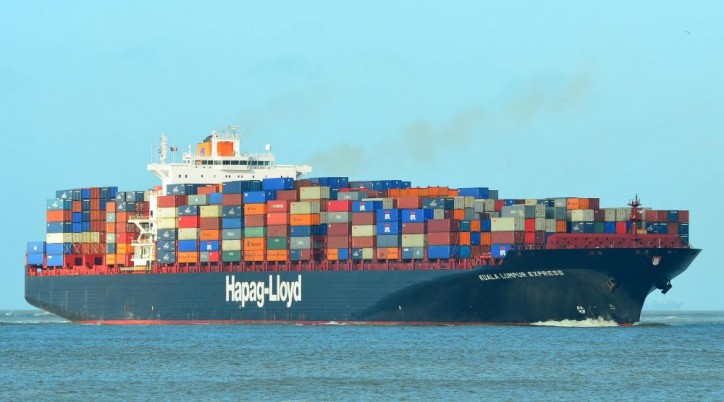 On May 5th the vessel was hit by Al Qibla, while staying at Hamburg's Waltershof Port. The accident was a result of a thunderstorm which accounted for gusts of up to 120km/h. Both of the two vessels' bows sustained damages, with a gantry crane also getting damaged. The Al Qibla was able to depart from the port later on at 9:00 a.m. en route to Zeebrugge.
At the time of the accident the Bianca Rambow, Barmbek, Hanjin Gold and MSC Margarita also managed to break loose from their moorings at the Athabaska Quay and Predöhl Quay.
The Bianca Rambow was kept in Watershofer Port's fairway thanks to the Police WS 35 vessel, after which she returned to the berth on account of her own power. The Hanjin Gold managed to not drift away via an emergency anchoring. One of MSC Margarita's moorings broke loose but officials managed to keep her at quay. The WS 20 – Amerikahöft police boat was able to secure the Barmbek vessel which was docked at Athabaska Quay 8 teilwiese. Hamburg Port Authority's Hafenaufsicht boat and an assistance tug managed to secure the vessel at the quay – later on Barmbek herself dropped two anchors.
The damages sustained by the ships' gangways and moorings are yet to be estimated. The Hamburg Port Authority alerted all available assistance tugs. According to reports all of the above-mentioned vessels were secured by 8:15 p.m., with all work at Watershof Port being suspended till then. Over a 100 containers tipped at the Burchard Quay HHLA Container Terminal and at the Eurogate. There have been no reports regarding potential spillages of dangerous substances.