The Boskalis subsidiary Dockwise loaded the first-shaped FPSO onto the world's largest semi-submersible heavy transport vessel on 8th of May 2015. The Storage and Offloading (FPSO) floating vessel of the Armada Intrepid Floating Production was loaded to the Dockwise Vanguard in the Caland canal, Rotterdam Port (Netherlands).
The operations started when the Armada Intrepid was brought into position and ended with Dockwise Vanguard's de-ballasting and refloating. About 3-4 hours were necessary for the loading operations.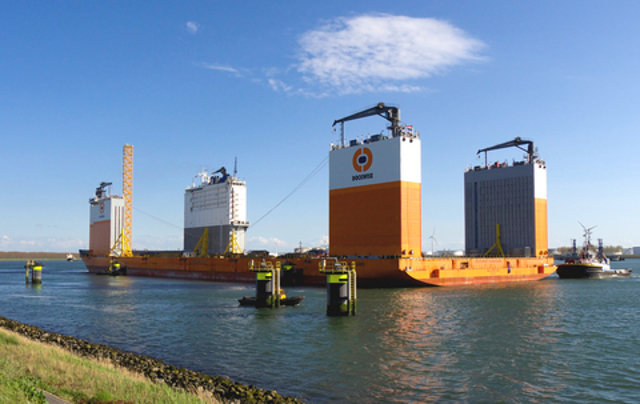 The FPSO Armada Intrepid has a weight of about 60,000 tonnes and length of 245 meters, which makes the FPSO floating vessel one of the heaviest ever transported cargo and the longest ever carried on the Vanguard until now.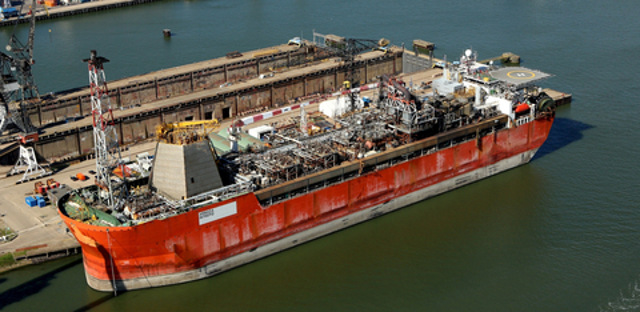 Images: boskalis
At the time of the arrival on the Vanguard and meanwhile the loading operations, further expertise by representatives, who belong to the Boskalis group, was deployed on this project along with the SMIT Towage support from North-west Europe.
Hans Leerdam, the Category Manager of Strategic Vessels a the Offshore Boskalis' division said:
"Transporting this ship-shaped FPSO on board of the Dockwise Vanguard demonstrates there this is a better, faster, more safe and efficient solution to transport FPSOs from one side of the world to another, be it for refitting or new builds."
Apart from the various exploration and production rigs, the Dockwise Vanguard successfully delivered a short time ago the ENI Goliat FPSO.