The 50-tonne bollard pull vessel Multi Cat 2613 has been delivered by Damen Shipyards Group to Orkney, Scotland. The chartering company, Scotmarine, which will operate the vessel, is local-based and has purchased the vessel three years ago with the intention to replace the stock vessel Multi Cat Orcadia.
The new delivery has a large crane. Its hull was in stock and was customized for the client а few months ago. Sеveral changes have been made in the design as a result of experience gained from the previous ship.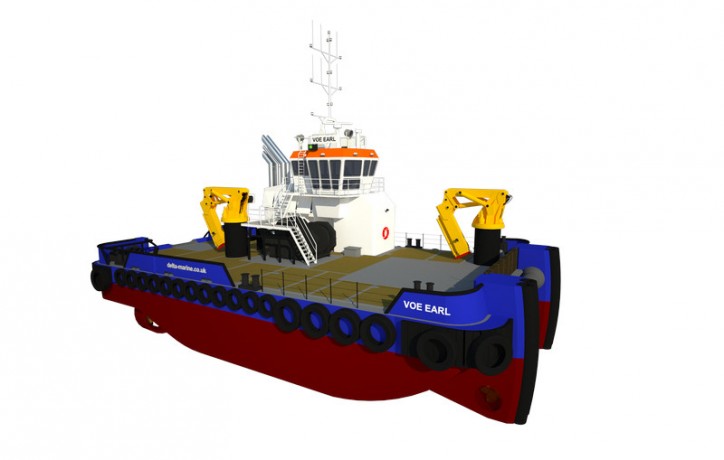 Image: Damen
Damen's UK Sales Manager, Casper Vermeulen said:
"It's a bulky, beamy boat that offers excellent stability and lifting capacity."
The Multi Cat 2613 is powerful enough vessel to pull and position underwater tidal turbines in heavy currents.
The bollard pull vessel will be deployed by Scotmarine in developing underwater energy farms for Scotrenewables Tidal Power and will be used for offshore tidal activities in Northern Isles of Scotland.
The Scotrenewables company is developing cost effective tidal and river hydrokinetic turbines. Its floating tidal technology uses the low-cost Multi Cat workboat vessels for installation, maintenance and decommissioning, which brings reduction in the developers' installation costs.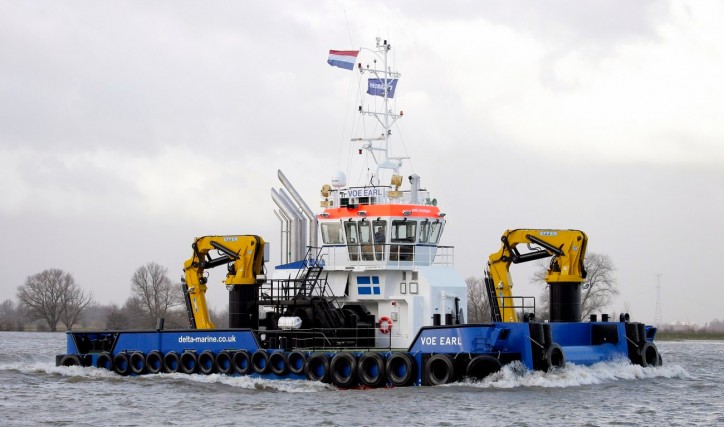 Image: Damen
Damen Managing Director of Marine Services (DMS), Rik van Prooijen said:
"A Multi Cat has to drop and embed heavy anchors in the seabed and connect turbines to these anchors. You need a powerful vessel to do so."
During the last five years, Damen has delivered several other Multi Cats, which are now also in operations offshore in the Northern Isles of Scotland.
Lately, Damen delivered to Green Marine Energy Support Services, a Multi Cat 2712, which has a maximum bollard pull of 35 tonnes. Other Damen Multi Cat vessels operated by Delta Marine in the Shetland Isles are examples of the models 2613 and 2611.