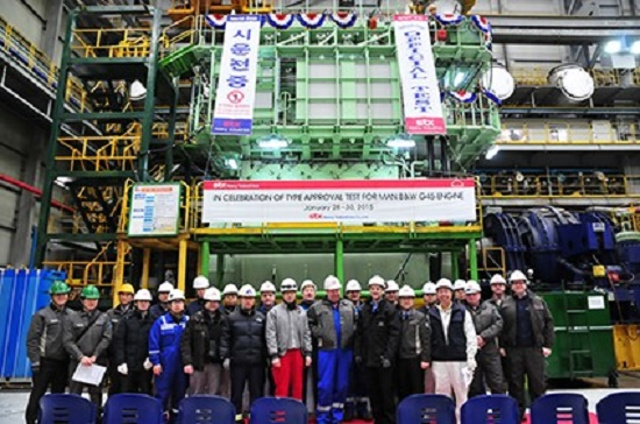 The construction of the world's first 45-centimetre-bore, ultra-long-stroke, low-speed engine, the MAN B&W 5G45ME-C9.5, was successfully finished by STX Heavy Industries, after a Type Approval Test (TAT). The engine features a fully electronically-controlled system that optimises the energy-efficiency and sustainability of the ship. According to MAN Diesel & Turbo, the G45 engine will be an excellent choice for smaller, oceangoing vessels.
In the development of the new engine design, the construction works were mainly directed at reducing exhaust-gas emissions to a minimum level and increasing fuel economy using a fully electronically controlled system.
The engine was ordered by Odfjell, which is a leading company in the global market for the transportation and storage of bulk liquid chemical products. It is the first in a series of eight individual main-engines bound for vessels, which are now under construction by NanTong Sinopacific Offshore & Engineering Shipyard in China.
The Type Approval Test was attended by several classification societies and ship owners and was performed at Changwon plant of STX Heavy Industries.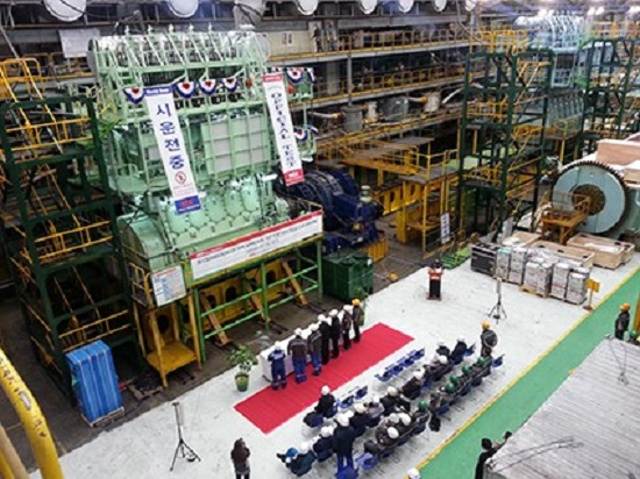 Image: MAN
As an illustration of a typical application for the new engine type G45, the MAN Diesel & Turbo offers an example for the engine installation aboard an 800 TEUs container ship. The characteristics are as follows:
For an 8-metres vessel's design draught, a 5,7 metres four-bladed propeller could be used in the working process;
The usage of this propeller ensures a service speed of 17 knots;
Approximately 105 rpm SMCR engine speed would be optimal and the SMCR power would be near 6,070 kW (with a 15% sea margin and 10% engine margin);
At a normal continuous rating of 5,465 kW, a typical, modern, low-speed engine would have a specific fuel-oil consumption of 166 g/kWh, resulting in a daily fuel-oil consumption of 24.2 t/day.
With the implementation of the MAN B&W 6G45ME-C9 unit using these parameters, the specific fuel-oil consumption would be 161.4 g/Kwh, which means a significant reduction of 2,85% in the daily fuel-oil consumption.
Company engineers involved in the project said that additional improvements could be gained by increasing the propeller diameter from 5.7 to 5.9 metres to make use of the G-engines lower shaft-speed range, thus the optimal propeller speed would then become 97 rpm. The larger propeller ensures a reduction of approximately 1 % in the power requirement for 17 knots, which means additional fuel savings if a G-engine is applied.