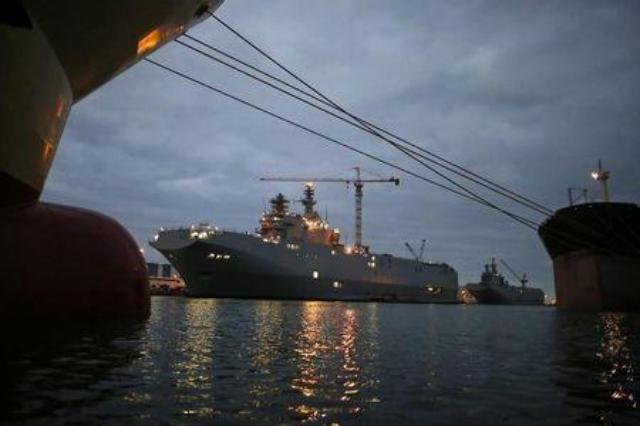 Russia is ready to take on financial compensation if France is unable to carry out an appointed contract for delivering two Mistral helicopter carriers, as stated on Friday, May 15, by a spokesperson for President Vladimir Putin. France's President, Francois Holland has been the object of quite the pressure coming from his Western allies as they heavily advocate for him to not complete the delivery of the Mistral carriers due to Russian's key part in the Ukraine crisis. He and President Putin went over the contract while in Armenia last month. When asked to comment a newspaper report according to which France had issued a formal proposal for the scrapping of the contract, Kremlin spokesperson Dmitry Peskov elaborated that the issue was being blown out of proportion and there were no major stirs regarding the two countries' relations.
"It is a simple principle – either the goods are delivered or the money," Peskov commented in front of reporters, further adding that both leaders had agreed upon this rather simple approach.
It was reported on Friday by the Russia-based business daily Kommersant that Moscow had calculated its expenditures and losses regarding the contract to be at 1.16 billion euros but Paris' offer was for just 785 million euros.
Peskov did not share any details concerning the report, according to which France had made plans to compensate Russia after selling the two carriers but Moscow wanted for the money to be delivered before a 3rd country of choice is to receive the vessels.
"Both of the Mistral vessels were constructed for the purposes of Russia's Navy, for our control systems, for our helicopters, our own infrastructure. They can't be delivered to 3rd party in any scenario imaginable, it is a state security matter," Yury Yakubov, senior Defense Ministry official.
According to him France should compensate Russia for the full amount of the appointed contract budget.
On Friday, while in Belgrade, Sergei Lavrov, Russia's Foreign Minister, commented that Russia and France had reached an agreement for dealing with the issue and that it is currently being handled on a "legal and commercial" level.
Rosoboronexport, which is the Russia-owned arms exporting company that signed the 1.2-billion worth contract back in 2011, refused to give any comment regarding the Kommersant report.