Computer modelling shows the worst-case scenario for an oil tanker spill near the city of Vancouver.
According to the computer-animated model developed by an oil pipeline opponents, over 90 per cent of the oil could wash up on the coast line. The model illustrates the possibility of pollution and how fast the beaches and waters of the Vancouver basin could become coated in crude, if such event with oil-tanker spill occurs.
The presented analysis, showing from 50 to 90 per cent of spilled oil that could be spread to coastlines for 24 hours, has the intention to stop the new development works on the Trans Mountain pipeline of the Kinder Morgan.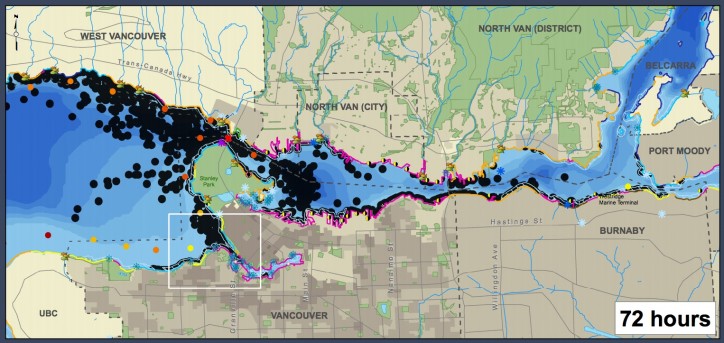 Image: Vancouver.ca
The analysis was commissioned by the cities of Vancouver and Burnaby, together with the Tsleil-Waututh Nation.
According to Ali Hounsell, the spokeswoman of the Kinder Morgan, the computer-animated model does not take into account the time for a response necessary before the oil clean up to start.
The Kinder Morgan's spokeswoman wonders as well, if the model analysis takes under consideration the fact, if there will be a restriction of other vessels' movements or not, while the oil tanker passes, also what would happen if the tanker was escorted by tugboats.
Hounsell says Kinder Morgan has acknowledged the risk of potential oil spills to the Vancouver basin and will look further into the study to see if something better could be done for the prevention from oil spills in the region.
The spokeswoman said that Kinder Morgan has submitted detailed risk assessments for the possibility of oil spills to the National Energy Board (NEB).
In an incident that occurred in the Vancouver's harbour previous month, the city closed all its beaches because of nearly 27, 000 litres bunker fuel spill from a grain ship, which has fouled the harbour.