A protest event took place on Monday at the Port of Seattle, when nearly 200 people were gathered to protest against the arrival of the Shell's giant oil drilling rig, the Polar Pioneer, which was parked earlier at Terminal 5.
The activists had gathered to express their disapproval of the intentions of Shell to use Terminal 5 for its drilling rigs. As it is known, Shell Group is expected to continue the exploration for oil and gas reserves in the Arctic. It has plans to spend near one billion dollars for the campaign, using two drilling rigs, the Polar Pioneer and the Noble Discoverer drillship.
The protesters claim that Shell's exploration plans are too risky and might cause a catastrophic oil spill in the Arctic sea. Additionally, they mentioned that burning of fossil fuels in the region was feared to have a considerable impact on the Arctic's climate change.
The original intentions of the activists' protest were to restrict the access of the workers to the Polar Pioneer rig. According to port officials, meanwhile at the Terminal 5 there were not many operational services, so the protest did not interrupt the terminal work.
Shell towed the Transocean-owned drilling rig from the port of Los Angeles and docked the platform at the Seattle Port on Thursday.
Thursday's protest was followed by another protests that took place last Saturday, when activists in kayaks welcomed the semi-submersible rig into the port with signs "Shell No Seattle Loves The Arctic".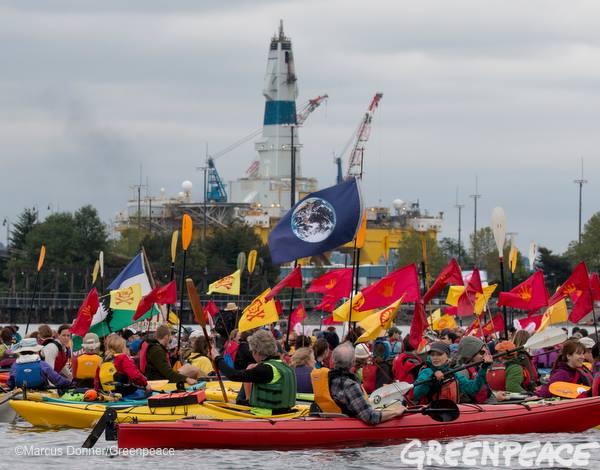 Image: Greenpeace
Seattle's Port Officials said :
"The demonstration at Terminal 5 ended today without incident. Protesters were on site for about eight hours. No arrests or injuries were reported. Thanks to Seattle Police, Port of Seattle Police, and Port of Seattle Security for protecting people and keeping our facilities secure."
The port authorities in Seattle faced difficulties by the public demands to restrict Shell access to the port service operations.
After the latest events that occurred at the port, the Department of Planning and Development in Seattle formally ruled that oil equipment maintenance is no longer permitted at port's Terminal 5.
In case that the port of Seattle fails to obtain the necessary permit, it may face fines regarding the oil-rigs restriction.