The Kuwaiti Coast Guard has placed an order for 29 cutting-edge coastal interceptor-class (FCI) vessels to Tampa Yacht Manufacturing LLC. The 44-foot vessels are to serve along the lines of the company's efforts to upgrade its current fleet. The company also ordered total drive solutions from the Twin Disc firm, that include the latter's Rolla propellers and all-new high-tech Arneson ASD11 surface drives, as stated by a Twin Disc spokesperson.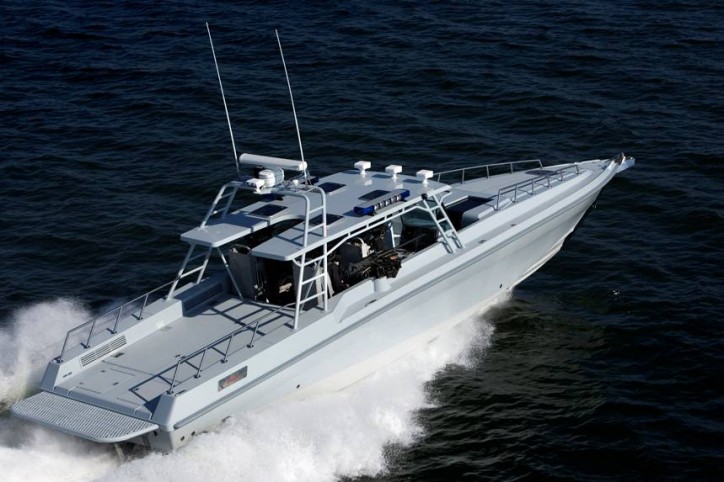 MAN R6-800 turbo-charged engines will be featured on the vessels and will enable them to reach a total level of power in the amount of 1,600 horsepower. The max speed level of the 44-foot FCI will exceed 55 knots at full load, as a result of its Arneson Surface Drives' surface-piercing design. The high-tech propulsion system manages to contribute for a 50% reduction of the appendage drag in comparison to other conventional submerged equivalents. The vessel is able to accelerate quicker and offer a better level of payload-to-power ratio due to its matched, five-blade nibral Rolla Propelers that are highly efficient.
"Arneson Surface Drives contribute for the most efficient methods of transferring the max amount of thrust starting from the engine and onto the water. The drives' high-quality material combined with their robust construction unables them to offer a high level of reliability, and relatively cheap maintenance and service," commented Bob Stevens, chief executive officer for Tampa Yacht Manufacturing.
While speed is very important for interception procedures, exacting control is demanded for tactical operations like boarding for example. The 44-FCI vessel uses MGX-5114 A QuickShift marine transmissions from Twin Disc, matched EC300 Power Commander Electronic Control and an all new bow thruster. Additionally, we can add that the vessel's low speed level of precision maneuverability is not rivaled on the market, which is essential when coming alongside another ship while having to deal with a vast array of possible sea conditions.
The 44-FCI has a construction which is reinforced with carbon fiber and with NIJ Level IIIA ballistic protection regarding the cabin. Its design provides accommodations for a crew consisting of 4-6 men, it uses shock-mitigation seats in order to reduce the fatigue factor and is also equipped with a wide array of weaponry and cutting-edge electronic systems. The vessel is specially designed to counter-back littoral terrorism.