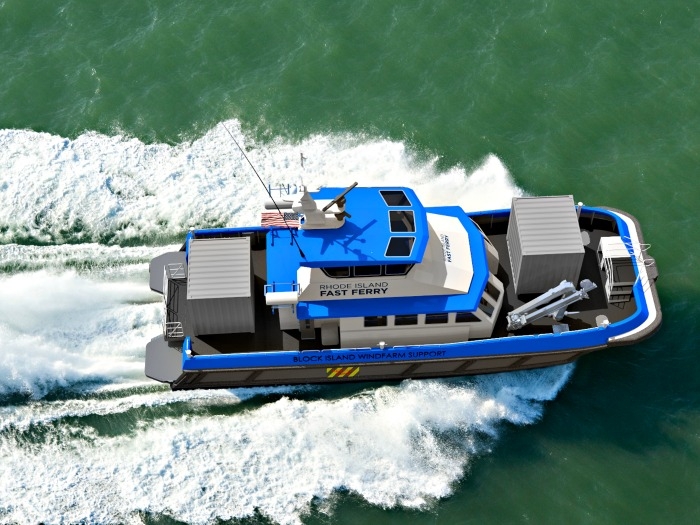 North Kingstown's Rhode Island Fast Ferry has received a 20-year contract, $4-million worth, regarding the operation of a specialized vessel for construction and maintenance procedures of a wind farm with five turbines, that Deepwater Wind is going to install in waters near Block Island. The project has been scheduled to start this summer.
The brand new vessel is going to be constructed by Warren-based Blount Boats and is to be employed indirectly by the offshore wind farm for the purposes of transporting workers to and from it. The wind farm in question is going to be the first of its kind in the U.S. The service vessel will be operating under the Atlantic Wind Transfers name.
"Atlantic Wind Transfers and the first ever U.S. crew transfer ship, that is to be built by the local Blount Boats company, are not only beneficial for the State of Rhode Island, but also for the future growth and enhancing of our company's capabilities regarding the United States offshore energy market," Charles A. Donadio Jr., Rhode Island Fast Ferry president, commented via a statement.
Rhode Island Fast Ferry has appointed a total budget of $4 million for the construction of the boat and the subsequent training of the crew members in order for them to be able to operate it efficiently. According to schedule the boat should be built within a year and is to employ 70 workers in total at Blount Boats for the process.
Expectations are that the vessel will be able to provide crew and equipment support at some point in the spring of 2016, prior to the turbines' installation for the Block Island Wind Farm.
"This will result in a greater amount of jobs in the marine trades for Rhode Islanders and in another way for the Ocean State to become the frontrunner of this all new U.S. offshore wind sector," commented Jeffrey Grybowski, Deepwater CEO.
The Rhode Island Fast Ferry company is responsible for operating high-speed ferry services established between the Quonset Business Park and Martha's Vineyard.
The new boat has a keel-laying ceremony in store for late summer.