The trailing suction hopper dredger Utrecht of the Dutch dredging company Van Oord's will join the crews that are already working on the expansion of the Suez Canal. The new supplement of Suez dredging fleet just passed the Strait of Hormuz and is expected soon in Suez.
The dredger Utrecht is the first of two dredgers, which have a capacity of 16,000 m3 and will be included in the working process on Suez Canal expansion. The vessel is currently sailing with approximately 14 knots-speed and is expected to reach the waterway on May 26, one day prior to the original arrival date.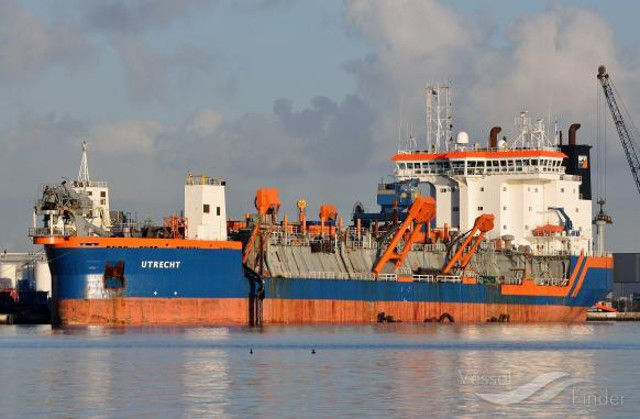 Image by: Marcel Coster
On June 12, the Oranje, which is the second trailing suction hopper dredger with same capacity is expected to be at site in the Suez Canal to join the expansion works. The vessel is owned by the Dutch dredging contractor Royal Boskalis Westminster N.V.
The experimental operation of the new canal will start in the end of June, when the completion of New Suez Canal project is believed to be. A total of 42 vessels, including these two of the world's largest dredgers, will be operating at the Canal in order to finish the dredging activities.
The new project includes the development of a new 72-kilometer canal, which will be parallel to the current one. The new facility will speed up the time for passing through the Suez Canal and will allow vessels to transit from both directions.
The new Suez waterway is expected to be officially inaugurated in August 2015.