The biggest warship of the UK Royal Navy, the HMS Ocean, was directed by Royal Navy chief officers to spreadhead high-level Nato war games in the Baltic Sea.
Michael Fallon, the UK Defence Secretary, has approved the deployment of the warship on Tuesday, as a part of a direct response after the increased "military surveillance" of the West done by Moscow lately.
The HMS Ocean, which is the Royal Navy's sole amphibious assault ship and landing platform helicopter, will join a flotilla of 46 Nato vessels. The warships are taking part in amphibious operations in Poland, within sight of Vladimir Putin's intelligence base at Kaliningrad, Russia.
The Baltic fleet of Russia is based in the Kaliningrad base, where the Russian command and coordination headquarters for all air and maritime intelligence gathering missions over Europe are.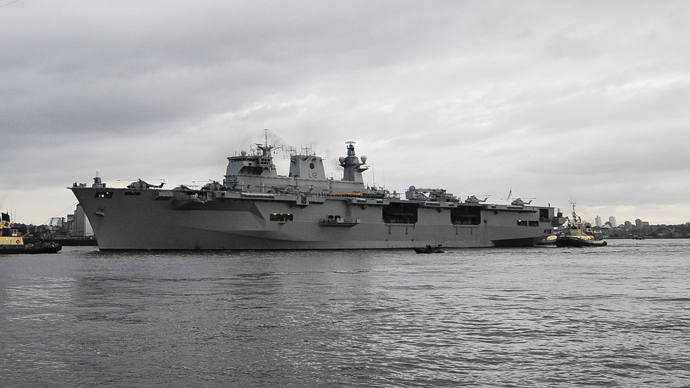 Image: RT
UK Vice Admiral and the Head of the Royal Navy operational fleet, Sir Philip Jones, briefed the defence secretary regarding Nato's concerns in the Baltic Sea region and explained his decision, why the HMS Ocean will join the rest of Royal Navy warships, which are taking part in Exercise Baltops.
Part of the Baltic Exercise will be the American B-52 nuclear bombers as well. They became the ultimate Cold War symbol standing on alert for many years ready to strike the Soviet Union.
At a time when UK Government is very close to start talks over its reform agenda, the decision Royal Navy warships to sail to Baltic, supported by the Prime Minister David Cameron, is going to boost Britain's profile across Europe.
The increased Russian aggression remains the main concern for Europe. Because the political and military tension with Russia is spreading, Finland sent letters to its 90,000 reservists to warn them for their military role in an eventual conflict with Russia.
As stated by Sir Adrian Bradshaw, the Nato's top UK general, as long as the alliance is a defensive organisation, it will not permit spreading of Russian violence in the Ukraine.
All tensions between West Europe and the Russian Federation started since the annexation of Crimea on the northern coast of the Black Sea ordered by President Putin.