China's People's Liberation Army Navy (PLA Navy) along with the Republic of Singapore Navy (RSN) officially completed their inaugural Exercise Maritime Cooperation yesterday (May 25). The co-op effort centers around a new series of various bilateral naval exercises.
The exercise operation was carried out on May 20th and subsequently from May 23-25. Among the participants were the PLA Navy's Jiangkai II-class frigate Yulin and RSN's Victory-class missile corvette, RSS Valiant ,and Formidable-class frigate, RSS Intrepid.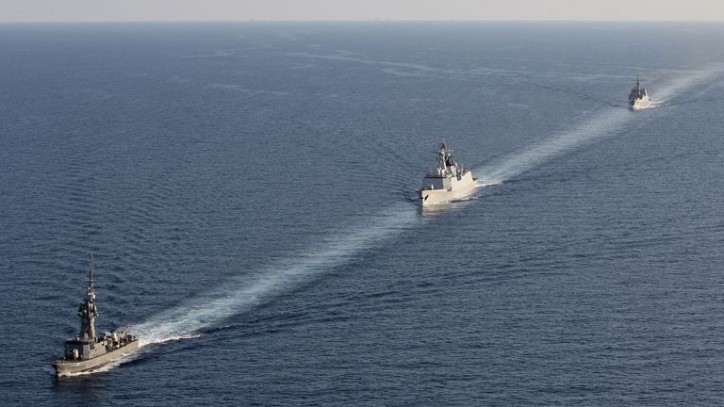 Photo: People's Liberation Army
It revolved around conventional naval warfare serials like maneuvering drills and gunnery firings. The two navies also appointed representatives of their respective personnel to participiate in the exercise planning and simulator training procedures that were carried out ashore.
During the opening ceremony that took place on May 20th, RSN Fleet Commander Colonel Lew Chuen Hong pointed out the established growth level regarding the professional interactions between the PLA and RSN Navy.
He commented that both navies have the unique opportunity to learn from one another and along the process enhance their professional knowledge in order to stimulate mutual trust and understanding.
"Exercise Maritime Cooperation serves as an example that we have the same goals and beliefs, and is another achievement in the list of successful exchanges and interactions between our respective navies," commented Rear Admiral Shen Jinlong, PLA Navy's South Sea Fleet Commander, who also carried out co-officiating duties during the opening ceremony along with Colonel Lew.
2015 marks the 25th anniversary regarding the establishing of the China-Singapore diplomatic relations.
The Ministry of Defense commented via a statement, yesterday, that the Exercise Maritime Cooperation serves as a major achievement in the bilateral defense ties established between the two countries.
It also managed to contribute towards the positive momentum that was achieved under the stipulations of the Four-Point Consensus that was agreed upon by China's National Defense Minister, General Chang Wanquan and Singapore's Minister for Defense, Dr Ng Eng Hen, during Dr Ng's trip to China in November of 2014.