Panama has managed to take another step forward towards increasing its capacity level in its role of an international transshipment hub by carrying out the ceremony for the initiation of the PSA Panama International Terminal expansion on the Pacific Panama Canal entrance's west bank.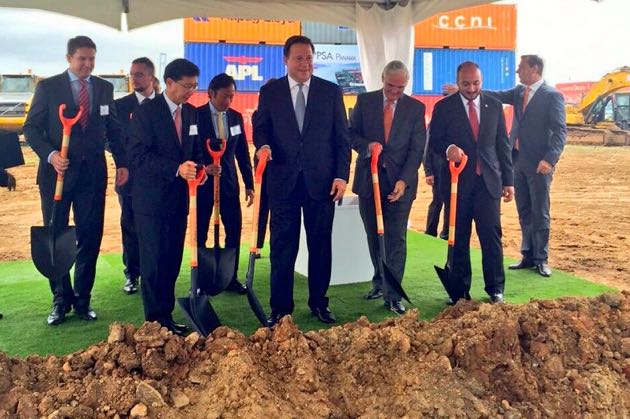 Photo: @JC_Varela /noticias24panama
The PSA Panama International Terminal (PPIT) hosted the groundbreaking ceremony, as it is making investments in a total of more than USD 400 million for all expansion-related procedures of its container terminal.
The brand new terminal facility will be equipped with 11 quay cranes that will have a 24-row maximum outreach and a berth of over 1.1 km.
The terminal is also going to feature 9 rubber-tyred gantry cranes (RTGs), 3 empty container handlers, 52 prime movers and 12 rail-mounted gantry cranes (RMGs).
The appointed target date for the project's completion has been set for some point before 2016's end, at the same time as the expanded Panama Canal's commercial opening.
Juan Carlos Varela Rodriguez, Panama's President, who was among the people attending the ceremony and who also inaugurated the ongoing works, commented that this is the very first top class port infrastructure to be constructed in order to attract new cargo coming in from Asia to America's west coast, with Panama serving the role of a transshipment center in order to comply with the global shipping lines' growing demand.
Rodriguez expressed his continuous support towards PSA Panama International in its efforts to successfully complete the project and thus develop all new top level facilities that will have the necessary capability to handle 18,000 TEU container carriers.