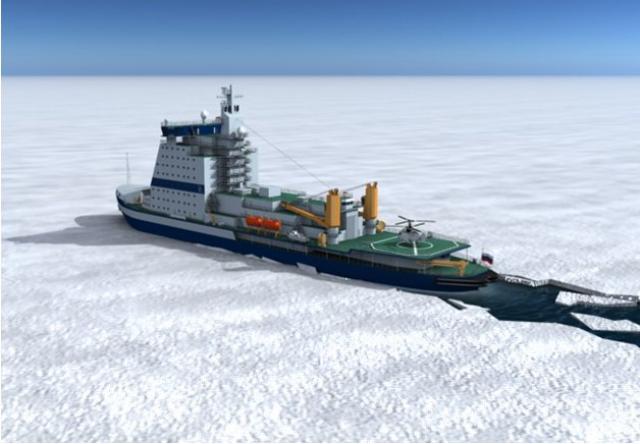 On Tuesday, Russia laid down its 2nd nuclear-powered icebreaker as part of Project 22220 at the Baltic Shipyard, located in Saint Petersburg.
In 2014, the Baltic Shipyard agreed to an 84.4-billion-ruble ($1.6 billion according to current exchange rates) contract with Russia's government-run Rosatom atomic energy agency for the construction of two Project 22220 icebreaker vessels by the year 2020. The vessels are to be commissioned respectively in December of 2019 and December of 2020.
"The Arctic has so many opportunities for the seizing…but one does not simply go there without being prepared, you need to have modern technology at your closest disposal," commented Dmitry Rogozin, Russia's Deputy Prime Minister, while attending the keel-laying ceremony.
In another deal, the Russia-based atomic agency made a payment of 37 billion rubles (approximately $1.1 billion back in 2012) for the Arktika, which was the maiden ship of Project 22220. The vessel was laid down back in November of 2013 and according to schedule it is to be initiated in December of 2017. The ship is regarded as being the biggest and most powerful in the world of its respective category.
The vessel is 189.5 yards long, 37.1 yard wide and has a displacement of 33,540 tonnes. Both new icebreakers are to feature a specifically constructed RITM-200 nuclear reactor.
Sergei Kirienko, Rosatom's chief, who also attended the keel-laying ceremony, commented the two vessels by saying that they would be of great importance for Russia's efforts towards expanding its Arctic shelf exploration operations as well as further solidify the country's military power.
According to experts the Arctic shelf contains enormous amounts of natural gas and oil. Russia has been putting numerous claims on the table regarding the deposits hidden within its offshore border areas. Four other Arctic nations have also laid their claims – Canada, the U.S., Denmark and Norway.