The first in the world system to passively clean up plastic pollution from the oceans is expected to be operational in the second quarter of 2016, Boyan Slat has announced. With its 2,000-metre span, the new system will overtake the current longest floating structure ever deployed in the ocean: the 1,000-metre Tokyo Mega-Float airport.
Currently, research is ongoing for the feasibility of deployment – the waters between South Korea and Japan, off the coast of Tsushima Island. The system will operate at least two years. Evaluation are being performed if the plastic, that would be collected, can be used as an alternative source of energy.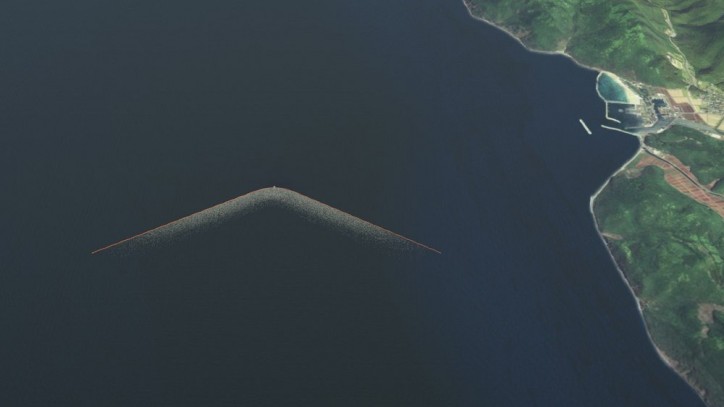 The 20-year-old founder and CEO of The Ocean Cleanup explained:
"Taking care of the world's ocean garbage problem is one of the largest environmental challenges mankind faces today. Not only will this first cleanup array contribute to cleaner waters and coasts but it simultaneously is an essential step towards our goal of cleaning up the Great Pacific Garbage Patch. This deployment will enable us to study the system's efficiency and durability over time."
The Ocean Cleanup's future plans provide the deployment of a 100 kilometer (62 mile) long system to clean up about half the Great Pacific Garbage Patch, situated between California and Hawaii.
In April, Slat's organization, with the support of the Transpac sailing race, announced a Mega Expedition, which is to take place this August. During the expedition, vessels will create the first high- resolution map of plastic in the Pacific Ocean. It is also expected that the vessels will cover a 3,500,000 sq. km. area between California and Hawaii in parallel, collecting more plastic measurements in three weeks than those collected in the past 40 years combined.
By the end of August, the expedition of up to 50 vessels will be welcomed in Los Angeles.
Source & Image: The Ocean Cleanup
Related news: Ocean Garbage Patch Solution provided by a teenager