Maersk Line and Daewoo Shipbuilding & Marine Engineering (DSME) signed a building contract according to which the former placed an order to the latter for 11 Triple-E container carriers with an additional 6 that are optional. Each of the vessels is to have a capacity level of 19,630 TEU (twenty-foot equivalent).
The ships will be roughly 400 meters long, 58.6 meters wide and have a draft of 16.5 meters.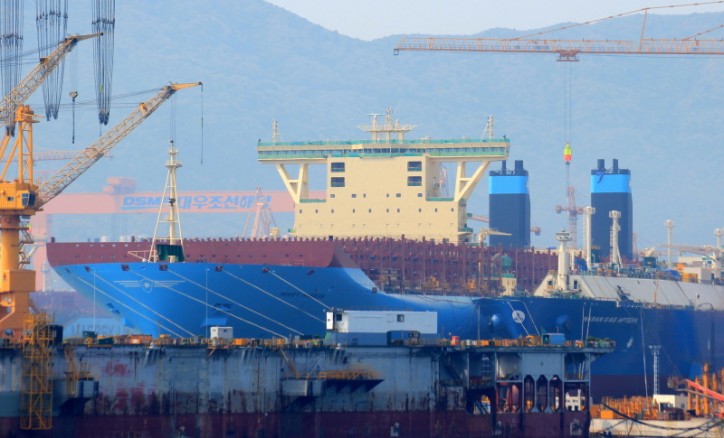 The contract's total value amounts to USD 1.8 billion. It was signed by Soren Skou, Maersk Line CEO, and Sung-Leep Jung, DSME President and CEO, at a ceremony that took place at Maersk Line's HQ in Copenhagen.
This current order serves as the 2nd one along the lines of the company's investment programme, as Maersk Line placed another order earlier this year for 7 feeder vessels with a capacity level of 3,600 TEU. Maersk Line has plans of investing USD 15 billion over the course of the next five years regarding new-building projects, retrofitting procedures, containers and other types of equipment. By doing this the company will manage to maintain the required capacity growth level and keep up with the increasing global demand along with replacing less efficient tonnage.
"This order has made me quite happy. The ships in question will greatly contribute towards our efforts of staying competitive in the Asia – Europe trade and are going to play an integral part in our strategy of growing with the market. This is Maersk's 2nd order this year and our expectations lean towards additional vessel orders, which we will be adding to our respective fleet from the year 2017 onwards," commented Soren Toft, Maersk Line Chief Operating Officer (COO).
The brand new ships are going to be the biggest ones among the company's current fleet and are to serve the Asia – Europe trade. They will serve as replacements for some of the smaller and less efficient ships the company has at its disposal.
Maersk Line has established a solid relationship with DSME over the years. As of most recent, DSME was responsible for constructing the cutting-edge Triple-E vessels. The last of which are scheduled for delivery later on this month (the total of them being 20).
The 11 brand new ships are going to be joining Maersk Line's fleet between April of 2017 and May of 2018. They are to sail under the Danish Flag.
"I have the utmost confidence in the carrying out of this order by DSME. Over the years the company has managed to compile a remarkable track record. By combining our efforts we can further improve the performance and efficiency of our Triple-E vessels," comments Soren Toft.
Maersk Line and DSME are placing their focus on the improvement of the Triple-E vessels' features – making them more efficient, cost-effective and eco-friendly.
Source: Maersk