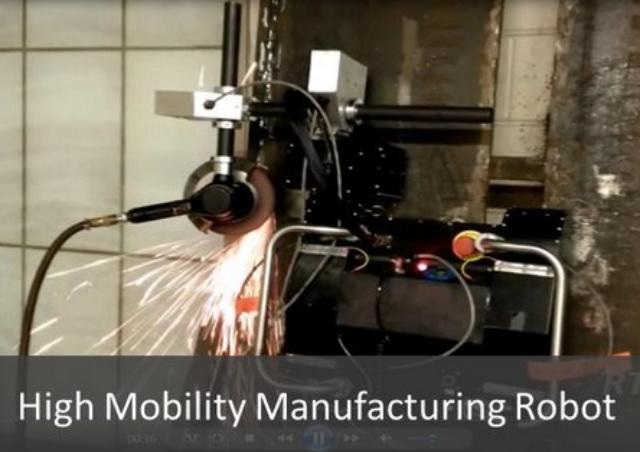 An all new welding robot has successfully completed its trial tests along the lines of the U.S.-based National Shipbuilding Research Program (NSRP) project.
The high mobility manufacturing robot (HMMR) is to be employed for usage at vessel compartments for carrying out a wide specter of operations like surface preparations, coating procedures and welding tasks.
The prototype is equipped with a holonomic platform that has the capability of moving in any direction, it is powered via a single 110V input source and features LIDAR (light detection and ranging) and sonar sensing systems for the purposes of proper positioning and avoidance of obstacles.
Each single year, reports display that millions of man hours are appointed for work-related tasks in enclosed vessel compartments. This line of work falls under the classification of being the most labor intensive, as well as dangerous and it features almost no automated processes, comments project partner Robotic Technologies of Tennessee. All work-related procedures are carried out by highly skilled workers that perform the majority of operations manually.
Although the workforce tasked with the carrying out of these certain operations is highly skilled in their respective craft, a large number of the productivity enhancements related with the cutting-edge technologies in the field of robotics, software applications and embedded processing have not been integrated in the work process. Expectations are that the welding robot project will contribute for the improving of productivity as well as safety.
The project's 2nd phase is going to focus on the enhancing of the magnetic crawling platform by adding the ability to traverse stiffeners on a panel line.
The project was initiated last year when NSRP's Executive Control Board awarded four major research and development projects along the lines of the program's mission of reducing costs related to United States shipbuilding and repair procedures. The projects' value has been estimated to be roughly USD 6.6 million in Navy funding along with industry cost share.
The current project's team compromises of Tennessee Tech, NASSCO, Ingalls Shipbuilding, VT Halter, Robotic Technologies of Tennessee and BAE Systems Southeast Shipyards.