The Skandi Africa Offshore Subsea Construction Vessel (OSCV), which Vard Soviknes delivered to DOF Subsea, received the title of Ship of the Year 2015 in Norway, as reported by the company via a press statement.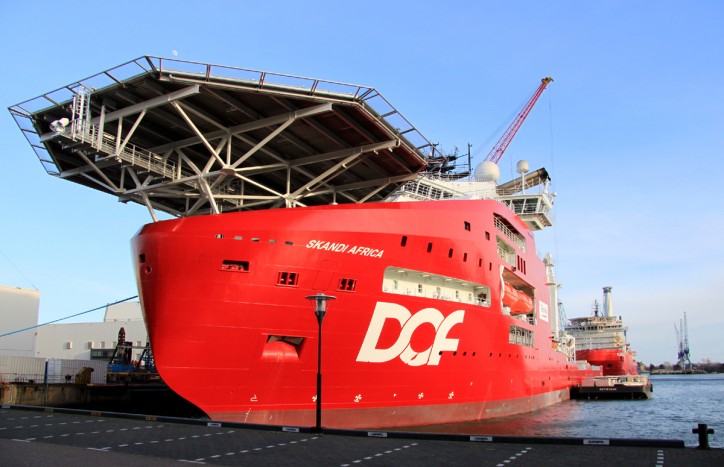 Photo: Jan van Kan
The prestigious award, which was established by the Nordic Skipsrevyen shipping magazine, was presented by Mrs. Monica Maeland, Norway's Minister of Trade and Industry, during the Nor-Shipping maritime exhibition that is taking place in Oslo. DOF subsea in the role of the ship's owner along with VARD as the vessel's designer and constructor accepted the award.
The Skandi Africa ship happens to be the newest purpose constructed cutting-edge vessel that is joining DOF's fleet. Its design and equipment are to focus on subsea operation tasks with a special emphasis on sea-keeping capabilities, low levels of fuel consumption and proper station keeping performance. The DP class 3 ship is specially designed to operate in harsh environments, and for the purposes of deep water subsea building and flexlay procedures of up to a 3000-meter depth level.
The vessel's top-side is equipped with a 900-metric-ton pedestal-mounted crane that has a combined active and passive heave compensation system along with a subsea lowering system. There is also a 650-metric-ton tilt-able lay system for the purposes of flexible pipes, as well as pipe storage equipment with a 3, 500-metric-ton basket. The ROV hanger features two heavy duty work ROVs that are initiated via moonpools in up to a 4,000-meter depth level. According to Vard Design's sea-keeping capabilities Research and Development program, the moonpools come along with damping zones.
Taking into consideration the vessel's worthy specifications, the jury has a firm belief that the Skandi Africa is setting new records regarding her particular area of operations.