A huge military exercise in the Baltic Sea will take place over the next 2 weeks. Military forces from 17 NATO and non-member partner countries will participate in the exercise, called BALTOPS. The Navy amphibious warship USS San Antonio will also participate in the exercise.
The international maritime exercise, which will be led on the ground by the United States, but organized by NATO, (STRIKFORNATO) will feature anti-submarine warfare, air defense, intercepting suspect vessels and amphibious landings.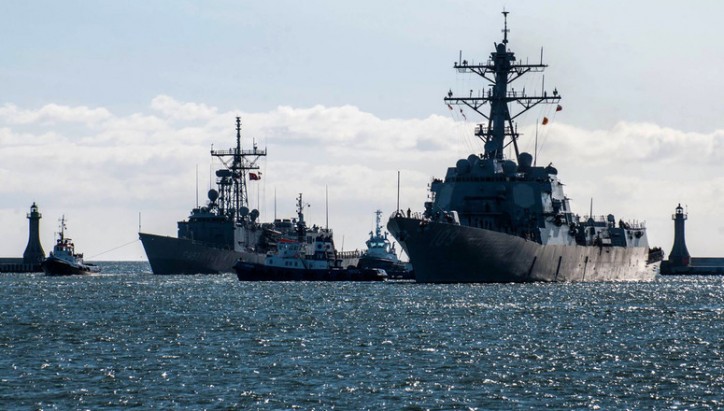 Image: NATO
BALTOPS 2015 drills will involve a total of 49 ships, 61 aircraft, one submarine, and a combined amphibious landing force of 700 US, Finnish and Swedish troops.
The participants are all fourteen NATO members plus Sweden, Finland and Georgia.
More than 5,600 troops will be involved altogether in the Baltic military exercise.Vice Adm. James Foggo III, NATO's Naval Striking and Support Forces Commander said:
"This exercise represents an important opportunity for our forces, as allies and partners, to enhance our ability to work together and strengthen capabilities required to maintain regional security. This exercise will be conducted in a truly joint environment, and I look forward to working with and learning from so many different nations and services."
BALTOPS drills will start on June 5 in the Polish port of Gdynia and will then move out to the Baltic Sea. They will end in the German port of Kiel on June 20.
This is the 43rd iteration of the multinational maritime exercise BALTOPS, which has been running since 1971.
In a press release NATO stated that the naval exercise was not organized in response to any specific threat. However, the timing of this year's operation cannot be ignored.
Lately, NATO Secretary General Jens Stoltenberg said that the alliance was increasing military exercises in Europe, as part of a response to alleged Russian actions in Ukraine.
Over the past months Russia has organized similar military exercises in the Baltics, Black Sea and Arctic region to show resolve against NATO's encroachment on its borders.
The United States has also intensified its military presence in the Eastern Europe following the crisis in Ukraine. In March, a convoy of US military vehicles toured through the Baltic countries to show off US and NATO forces' military presence in the region.