A new showcase ro-pax vessel "Delta-Challenger" has been launched by the Finland-based ship designer Deltamarin during the Nor-Shipping 2015 exhibition in Oslo.
The new development for one of the most energy efficient and environmentally friendly vessel was based on Deltamarin extensive experience on developing ship concepts.
The Delta-Challenger design was developed with the help of leading in the shipbuilding industry partners and after their high professional expertise in the respective shipbuilding areas. Along with that in the new design was included the implementation of the latest technologies available, many of which were used for the first time in ro-pax vessels.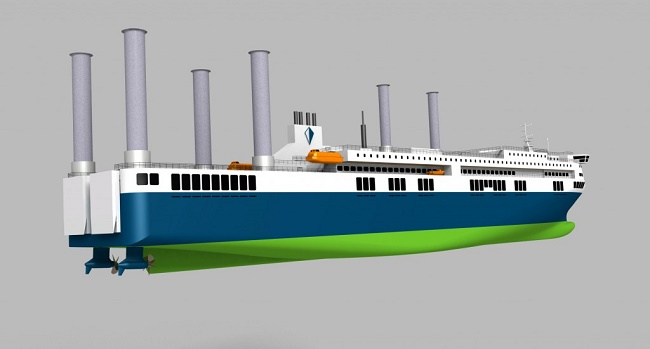 Image:Deltamarine
The Delta-Challenger vessel has six rotor sails by Norsepower, giving 10% capacity of the total propulsion power of 1.3 MW, which reduces the fuel consumption.
Further fuel economy and manoeuvrability are achieved through the combination of dual-fuel electric machinery, four power plants (2 x 6 MW and 2 x 3 MW) and the new compact Azipod D pod propulsion system from ABB.
In the new ship construction, the steering unit of the pod can be fitted in one deck, in order to prevent any difficulties in the loading of cars.
The new Deltamarin ro-pax vessel will have GTT Mark III membrane LNG tanks of total capacity of 1,200 m3.
Without disrupting passenger and cargo capacity of the vessel, the tanks give superior layout advantages making new efficient loading and unloading configurations.
The ventilation and air conditioning systems have been optimised by Carrier. In order to ensure maximum comfort and at the same time to minimize power consumption, the ship utilises heat recovery and demand controlled ventilation.
The vessel has the ability of simultaneously loading and unloading on two levels of the lower hold, which makes the process very effective. On the main and upper deck, the ship will have 2,720m of trailer lanes. In the lower hold, which can be loaded with maximum number of trails there will be 480 car lanes / 104 cars in two levels.
The Delta-Challenger could be loaded altogether with 950 cars and has the capacity to carry up to 950 passengers and 50 crew members.
The vessel has 267 passenger cabins and 32 for the ship's crew. It is 200 metres long, 30,4 metres wide, with a 6.0 metres draught and a 7,900-tonnes deadweight. The ship is designed to sail at 18,5-knots speed.
Mrs Päivi Haikkola, the Deltamarin's Manager R&D said:
"Challenging the existing methods and utilising the latest technologies have always been part of Deltamarin's philosophy. With the new Delta-Challenger we aim to show what the future's combined passenger and cargo ship could be. By combining the top-level existing technology, you can create something unique but functional. The right product for the customer may not be the Delta-Challenger as such, but the idea is that together with the customer and our partners we can develop exactly the exceptional ship that best serves the customer's s future needs."