Netherland-based shipbuilding company Damen has managed to deliver its largest ever Trailing Suction Hopper Dredger (TSHD) to the Indonesia-based Pelayaran Fortuna Nusantara Megajaya (PFNM) dredging company.
The 80.35-meter long Barito Equator is the first dredger to ever be constructed in Indonesia. It has a capacity of 2,500 m3 and a trailing depth level of 22 meters with a 750 mm dredging pipe.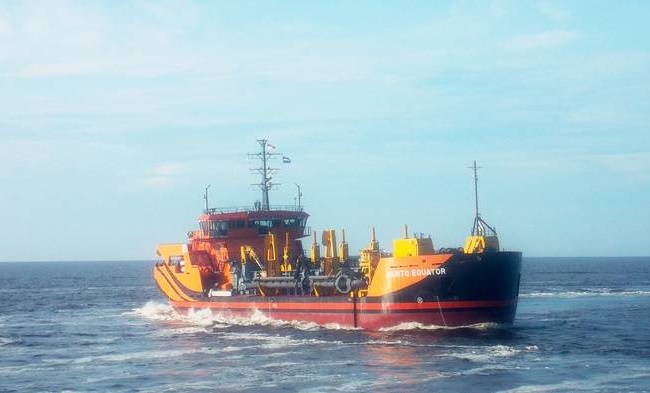 Image:Damen
Discharging procedures are carried out via the use of bottom doors and bow coupling. The vessel will be essential for maintaining, vital for the economy, cargo transport operations on the Barito River on the island of Borneo.
After being delivered, the Barito Equator was immediately appointed for maintenance dredging procedures on the South Kalimantan's Barito River which has a length of 890 kilometers.
Indonesia has made several significant investments towards capital projects for improving the waterway's navigability, as it is a major cargo and transport link. Given the fact that the river has proneness for heavy siltation, and that environmental conditions during the course of dredging operations tend to be on the extreme side, it is only natural that companies have to employ equipment and machinery with a high level of efficiency as well as reliability.
The Steadfast Marine yard contributed for Indonesia's maritime aspirations via the transferring of technology that took place during the above-mentioned vessel's construction that was carried alongside Damen Shipyards Group.
Damen Technical Cooperation (DTC) provided its assistance in the project, while Damen Shipyards Gorinchem took care of all engineering-related tasks and Damen Dredging Equipment delivered the complete trailing dredging system.
Damen Marine Components was responsible for delivering the vessel's gearbox and rudder installation along with a large number of other vital components.
"We are happy to announce the first ever Indonesia-built Trailing Suction Hopper Dredger. It is a remarkable achievement that would have never materialized if it were not for our strong local partnership ties. Damen has proven itself to be a reliable partner in the construction of Damen-designed vessels on a global basis and we are proud that the Kalimantan-built Barito Equator will help guarantee the economic development of South Kalimantan for a lot of years to come," commented Gysbert Boersma, Damen Shipyards Group's Asia-Pacific Sales Manager.
Damen Shipyards Group has a total of 32 shipbuilding and repair yards and has 9,000 employees globally. Over the years, the company has been able to successfully deliver over 5,000 vessels in 100+ countries and accounts for approximately 160 vessel deliveries on an annual basis.