Russian Prime Minister Dmitry Medvedev has signed North Sea Route Comprehensive Development Project. The press center of RF Government informed that the agreement was officially announced by Medvedev, at meeting with other Russian head officials, held on June 8th.
Russia is interested in the unused potential of the Northern Sea Route (NSR) that is why the country's investment projects are targeting the route's development.
Russian Prime Minister Medvedev commented:
"It is the shortest route linking Europe with the Far East, Asia-Pacific Region, western part of the North America. To put it mildly, its use is not so hot, I admit. It was used more extensively before."
In compare with the currently used sea route, from the South part of the globe ,the North Sea Route represents a reduction of about one third of the average shipping distance and days of transportation.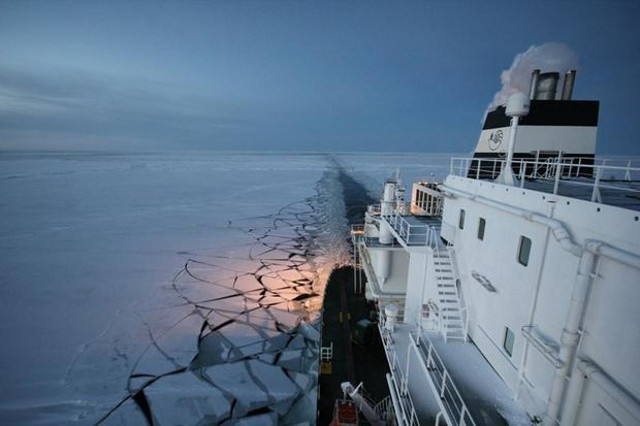 Image by: Dynagas
Prime Minister Medvedev emphasized that the Northern Sea Route should enhance Russians unique transport and logistic advantages. The NSR trade should also bring money to the country budget. He added that the opening up the possibility of exploring the mineral resources in the Arctic, Siberia and the Far East, was particularly important for Russia.
Furthermore, Medvedev stressed the need for establishing an effective protection of the marine environment from pollution in the Arctic and on the continental shelf of the Russian Federation. He said additional measures have to be taken, in order to improve the reliability of transit from the mining sites.
The Russian government's press center informed that works have already began on setting up marine rescue centers.
Russia intentions are to attract more cargo to the North Sea Route in addition to the expected cargo inflow from the Yamal LNG project that is scheduled to be transported via the route.
Preliminary calculations show, that for the 15-year period more than 80 million tons are expected to transit the route, which is nearly 20 times increase of the traffic volume.
At this year's China-Russia Expo, held under the patronage of the Russian and Chinese governments, will be discussed the potential opportunities for partnership with China.
Part of the Russian development project will be the replacing of the nuclear-powered ice-breakers with diesel-electric counterparts.