Several Vietnamese fishing boats were burned last Thursday by the officials from the Pacific nation of Palau in a fiery crackdown on illegal fishing in the region.
The wooden vessels were captured by the Law enforcement authorities in Palau over the last weeks.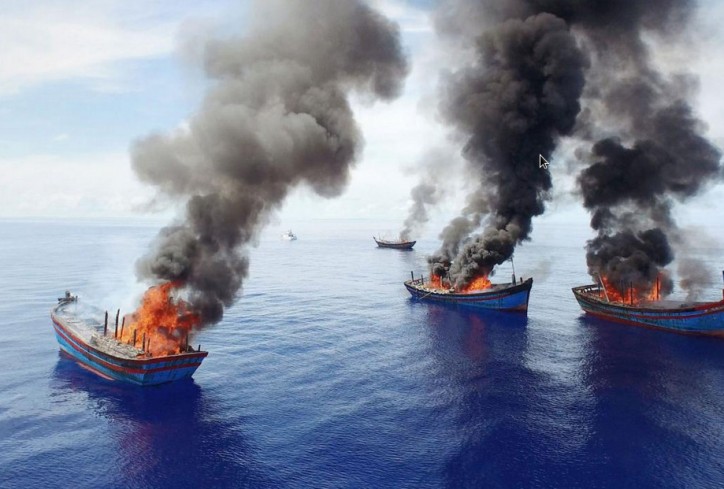 Image: Jeff Banube, The Pew Charitable Trusts
The ships' captains were detained and brought to police custody in Palau. All the rest 77 crew members are being sent back home on two remaining fishing boats with enough provisions and fuel to make the trip back to Vietnam.
Tommy E. Remengesau, the president of Palau said:
"We hope to send a very clear message to poachers, who are raping our marine environment. We will not tolerate any more unsustainable acts. Palau guarantees, you will return with nothing."
People from the shore spotted the fishermen, harvesting tube-shaped invertebrates, known as sea cucumbers by scooping them up in buckets. It was found later by the Palau authorities that the fishermen collected eight metric tons of sea cucumbers and reef fish on board their vessels.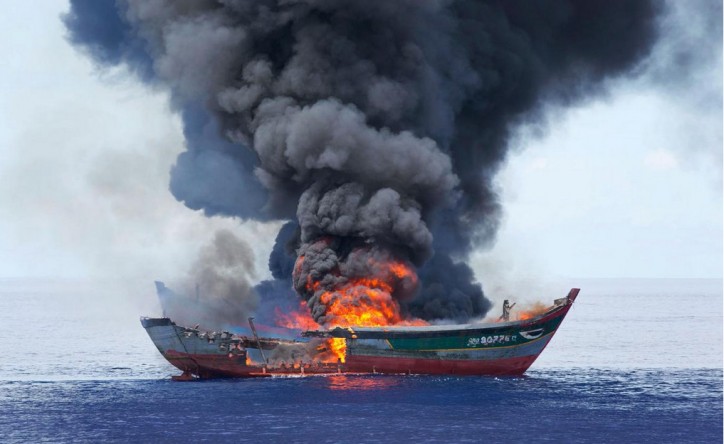 Image: Richard Brooks, The Pew Charitable Trusts
According to the president's office, the fishermen did not have permission to operate in the country's waters and these vessels will join the other 15 Vietnamese boats caught by the marine authorities of Palau since 2014. Up to the moment the officials found over 25 metric tons of fish destined for the black Asian market.
"We are facing a growing, dire threat from illegal fishing in our waters," said Remengesau.
The president hopes the boats burning will deter others, who are stealing Palau's fishing resources, which are as he said the "lifeblood" of his country and who are sometimes also involved in human trafficking and drug smuggling.
Palau is a small country in the western Pacific Ocean, an archipelago of more than 500 islands, part of the Micronesia region, well known for its scuba-diving and snorkeling sites.
Lately the country faces serious problems to protect its marine environment and sea resources.
The president Remengesau explained how frustrating it is to watch poachers to be caught and deported, only to return back again or to be replaced by many other new intruders.
The small country does not have military and it is quite difficult to enforce its fishing laws. Palau has only one law enforcement vessel, which is not enough for patrolling and protecting the waters in the region.
The fishing boats were burned approximately 25 miles (40 kilometers) from the coastline, sending black smoke and flames over turquoise water, in order to prevent debris from damaging reefs.